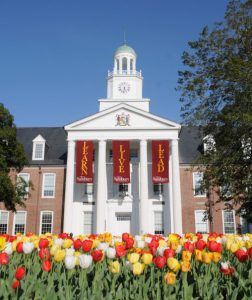 SALISBURY, MD – Salisbury University celebrates the following recent faculty successes:
Carayon Earns FEEGI Book Prize 
Dr. Céline Carayon, associate professor of history and director of SU's Graduate History Program, received the 2021 Forum on Early-Modern Empires and Global Interactions (FEEGI) Book Prize for her book Eloquence Embodied: Nonverbal Communication Among the French and Indigenous People in the Americas from the University of North Carolina Press.
The prize committee called her study of nonverbal communication among Indigenous nations and French and other colonists in North and South America "groundbreaking" and "wonderfully broad and deep." FEEGI prizes recognize outstanding scholarship by the organization's members that furthers historical understanding of early modern global interaction and cross-cultural connections.
Mazzetti, SU Alumni Publish in Fitness Journal 
An SU Laboratory for Human Performance study overseen by Dr. Scott Mazzetti, chair of SU's Applied Health Physiology Program, recently was published in the Journal of Sports Medicine and Physical Fitness.
Titled "Order of Concentric and Eccentric Muscle Actions Affects Metabolic Responses," the article shares the study's findings that excess post-exercise oxygen consumption (EPOC) is greater after concentric vs. eccentric muscle actions, regardless of the order of the muscle actions.
Co-authors of the article were SU undergraduates working in the lab during the study. They include Nick Carlini, Alec Chaves, Will Fountain, Samantha Guarnera, Dillon Kuszmaul, Colleen Lynch, Kerry Lynch, Ben Meister and Zack Valenti. All currently are pursuing graduate or doctoral degrees in the field.
Rojas, Woodis, Students Publish in Chemistry Journal 
Drs. Anthony Rojas and Lena Woodis, assistant professors of chemistry, recently published the article "Buchwald-Hartwig Animation, High-Throughput Experimentation and Process Chemistry: An Introduction via Undergraduate Laboratory Experimentation" in the Journal of Chemical Education. SU nursing major Emily Lanehart and recent graduate Bailee Wathen co-authored the paper.
The article details a three-part laboratory experiment investigating key aspects of the Buchwald-Hartwig animation cross-coupling reaction used in organic chemistry for the synthesis of carbon–nitrogen bonds. The experiment serves as a capstone learning experience for senior SU chemistry students.
For more information call 410-543-6030 or visit the SU website at www.salisbury.edu.