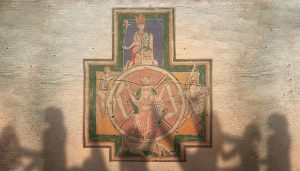 SALISBURY, MD—The Salisbury and University chorales inaugurate this year's Salisbury University Spring Music Festival with a performance of Carl Orff's Carmina Burana 7:30 p.m. Saturday, May 4, in Holloway Hall Auditorium.
The concert features soprano Brandie Sutton of the Metropolitan Opera. Additional soloists include baritone Jeffrey Todd and tenors Jeremiah Copeland, Lance Fisher and Dr. John Wesley Wright. Dr. William Folger, SU Music, Theatre and Dance Department co-chair, directs.
Based on 24 poems from the medieval collection of the same name, the 1930s "scenic cantata" reflects on timeless themes such as the fickleness of fortune and wealth, the ephemeral nature of life, the joy of the return of spring, and the pleasures and perils of sins including drinking, gluttony, gambling and lust.
The work's five sections include "In Spring," "In the Meadow," "In the Tavern," "Court of Love" and "Blanziflor et Helena." (The latter is an interpretation of a popular romantic story from the Middle Ages.) They are bookended by the overarching concept of "Fortune, Empress of the World."
Sponsored by benefactors Peter and Judy Jackson, admission is $12, $9 for seniors 62+ and SU alumni, $5 for non-SU students, $3 for SU students with Gull Card. Advance tickets may be purchased online at www.salisbury.edu/academic-offices/liberal-arts/music-theatre-and-dance/performing-arts-box-office.aspx, by phone at 410-543-6228, or at the SU Box Office (Fulton Hall Room 100, Monday-Friday, 10 a.m.-4 p.m.).
For more information call 410-548-5588 or visit the SU website at www.salisbury.edu.