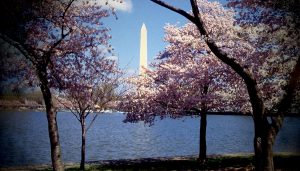 SALISBURY, MD—For more than a century, the National Cherry Blossom Festival has been one of Washington, D.C.'s most cherished traditions.
Salisbury University's Cultural Affairs Office offers an opportunity to see the festival's colorful parade and the Sakuri Matsuri Japanese street festival during a bus trip on Saturday, April 13.
The bus leaves the Dogwood Drive parking lot of the Guerrieri Student Union at 7 a.m. The parade begins at 10 a.m., marching along historic Constitution Avenue between 7th and 17th Streets, NW. The bus leaves Washington, D.C., at 4 p.m., returning to SU around 9 p.m. following a dinner stop.
Tickets are $35 for SU students, faculty, staff and alumni; $45 for members of the greater community, available at the Guerrieri Student Union Information Desk. Tickets for the SU community are available beginning Monday, March 11. Greater community tickets go on sale Monday, March 18. Admission to the Sakuri Matsuri festival ($10) is not included.
For more information call 410-543-6271 or visit the SU website at www.salisbury.edu.