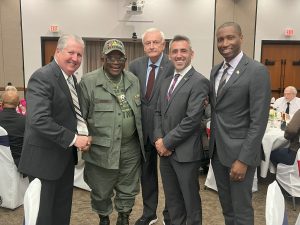 The SACC and University of Maryland Eastern Shore presented the annual Salute to our Veterans Gala on November 8th at the Richard Henson Center Ballroom on campus, benefiting the Silver Star Scholarship Fund for enlisted students and children of veterans.
Two hundred guests enjoyed cocktails, hors d'oeuvres, and a delicious dinner prepared by the culinary students at the University.
Kicking off the evening, SACC President/CEO Bill Chambers welcomed the guests and offered a moment of remembrance for former Maryland Secretary of Veterans Affairs and a Vietnam Veteran, the Honorable George Owings III. Secretary Owings was instrumental in creating the Department of Veterans Affairs during his sixteen years of service as a Maryland House of Delegates member.
The Honorable Jake Day, former Mayor of Salisbury and now Secretary of Maryland's Department of Housing and Community Development, took the stage as the evening Master of Ceremonies.
"As early as 1961, President John F. Kennedy had committed some 500 American special forces and advisors to Vietnam," shared Secretary Day. "This commitment grew substantially in number by October 1963, when Kennedy and Secretary of Defense Robert McNamara explored pulling all U.S. forces from the nation. As we all know, this plan did not materialize, and U.S. involvement in Southeast Asia grew exponentially throughout the decade to follow – with Presidents Lyndon Baines Johnson and Richard Nixon escalating both ground troops and air campaigns."
"While U.S. involvement in Vietnam predates 1963, that year is more or less the beginning of major American commitments to the conflict. Therefore, this month marks the 60th anniversary of America's involvement in the war, which claimed 58,220 service men and women, including 7,243 African American soldiers – more than 12% of all who perished."
Secretary Day led the attendees in toasts to the United States and each armed service and thanked those who honorably served our nation. Recognized were Vietnam veterans who were alumni of the Maryland State College (the predecessor institution to UMES) or had family affiliations to UMES, including Albert W. Cooks, Larry Brogden, Pennington "Tick" Hebron, William Dennis, George A. Dutton, Jr., George Whitney, George Stewart, and Garland Hayward.
Vietnam Veteran Tom Kimball presented David Balcom, Vice President of University Relations, with a $1000 donation to the Silver Star Scholarship Fund on behalf of VFW Post 10159.
The keynote speaker for the evening was the Honorable Anthony Woods, Maryland Secretary of Veterans Affairs. In his remarks, he implored the audience to get involved.
"The University's Silver Star Scholarship fund, for which this event benefits, is an investment in our future leaders." The Secretary added, "There is an entirely new generation of Americans home from conflicts abroad, including Iraq and Afghanistan. We have five hundred Maryland National Guardsmen and women currently deployed overseas; they will need our support when they return."
Secretary Woods spoke to the unwelcoming environment that many Vietnam War veterans returned home to upon completing their service. "The American people now understand, whether they agree or disagree, that you can't inject politics upon those who have served or are serving their Country."
The Secretary concluded his remarks by sharing a new program from his department, "Maryland Joins Forces." The program assists Veterans with employment resources, housing resources, and other vital services. Understanding that a veteran's family thrives if the veteran thrives is a cornerstone behind this program.
The Salisbury Area Chamber of Commerce and the University of Maryland Eastern Shore wish to express their respect and gratitude to all military veterans and those currently serving our nation.
Delmarva Power, Perdue Farms, Chesapeake Utilities, and Piedmont Airlines supported the 2023 Salute to Veterans Gala. Dinner sponsors were Mountaire Farms and Higgins Crab House.