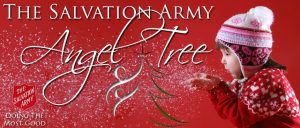 Salisbury, MD (December 16, 2020)—The Salvation Army Lower Eastern Shore kicks off its annual Angel Tree toy distribution for over 1,000 children from at 8:30 a.m. to 5 p.m. on December 21 and 22. Families were able to register for toys during the months of August, September and October. The registered families will be receiving their packages at the drive-thru distribution with cheerful smiles and holiday greetings.
"This year, due to COVID-19, we are assisting many families who are struggling to make ends meet. With the help of the Angel Tree program, these families will have a few gifts to put under the tree for their children." said Capt. Matthew Trantham, corps officer of The Salvation Army of Salisbury. "Every donated toy brings unimaginable joy to children and their families across the area. We are blessed to be part of a community that is willing to share that kind of joy with others."
If you would like to volunteer to help distribute the gifts during the 2-day event, please contact us at 410-749-7771 ext. 100.