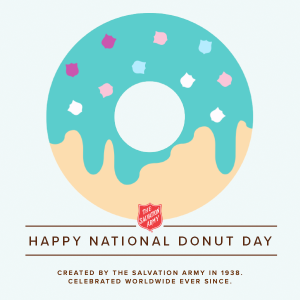 SALISBURY, MD – May 26, 2021 – On the first Friday in June, Americans celebrate all the gooey goodness of donuts. But many don't know that l Donut Day actually has its roots in doing good. This sweet tradition dates back to World War I, when nearly 250 Salvation Army volunteers known as "Donut Lassies" traveled overseas to provide emotional and spiritual support as well as fried confections, supplies, and other services to troops on the front lines.
The Donut Lassies fried donuts in small pans and are credited with popularizing the donut in the United States when troops returned home from war. The Salvation Army in Chicago celebrated the first National Donut Day in 1938 to help those in need during the Great Depression and to commemorate the work of the Donut Lassies.
For more than a century, the organization has continued to provide a wide range of essential services like food, shelter, and emotional and spiritual support to the most vulnerable and to many of the men and women serving on the front lines of need.
"This National Donut Day, as we celebrate with a sweet treat, we are proud to remember that this fun tradition started with our very own volunteers over a hundred years ago," said Capt. Matt Trantham. "If you ask me, knowing that the day has its roots in the fight for good makes those glazed pastries taste even sweeter."
To honor the history of Donut Day, The Salvation Army of Salisbury, MD, will celebrate by giving out donuts on Friday, June 4, from 11 a.m. to 1 p.m. at our Family Thrift Store.
For more information, or to make a donation, please call The Salvation Army of Salisbury, MD, at 410-749-7771 ext. 100 or visit us at 407 Oak Street, Salisbury, MD 21804, or online at https://salvationarmypotomac.org/salisbury/
About The Salvation ArmyThe Salvation Army of the Lower Eastern Shore of Maryland has been operating since 1913. Serving Wicomico, Worcester, and Somerset Counties, it has sustained its operations financially through excellent stewardship of community resources that have been entrusted to us over the years. The COVID-19 pandemic has not been easy on our budget. We continue to experience unforeseen expenses with a shortage of individual and corporate donations from the public due to their own financial struggles.
Since 1865, The Salvation Army has preached the gospel of Jesus Christ and worked to meet human needs in his name without discrimination. Today, The Salvation Army serves in every state in the United States and more than 130 countries throughout the world. The Salvation Army has many programs that address social concerns in our community, which include utility and rent assistance, nutrition services, Christmas assistance, worship, disaster relief, and youth programming.