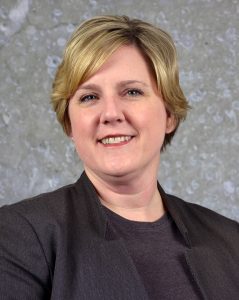 Steve Leonard, Ph.D., MBA, FACHE, President/CEO of Peninsula Regional Health System (PRHS) and Peninsula Regional Medical Center (PRMC), today announced that Sarah Arnett, DNP, MS, RN, NEA-
BC, has been selected as the next Chief Nursing Officer (CNO) at PRHS and PRMC.  Arnett replaces Cindy Lunsford, Executive Vice President/COO, who has been serving as the interim CNO for the past 18 months.
In her role, Arnett—who has been with PRMC for six years—will lead the professional practice of nursing at Peninsula Regional Medical Center.  Arnett first joined the Medical Center in 2013 as the Director of Emergency/Trauma Services.  Since October of last year, she has been Executive Director of Acute Care Services.  Arnett holds a Bachelor of Science in Nursing and a Master of Science, Health Services Leadership and Management from the University of Maryland at Baltimore, plus a Doctorate of Nursing Practice from the University of Alabama.  She's also a Fellow in the University of Maryland at Baltimore Nursing Leadership Institute.
"Sarah brings a vision for nursing excellence, both from the patient experience as well as the nurse/care team experience," said Lunsford.  "She is frequently complimented by her employees for her exceptional communication and clinical skills and her overall leadership qualities.  We look forward to the continued growth and development of our nursing care team with Sarah as our CNO."
During the last 10 years of her career, Arnett has served in leadership roles in Emergency/Trauma. She is also a past recipient of PRMC's Circle of Excellence President's Award for Leadership.