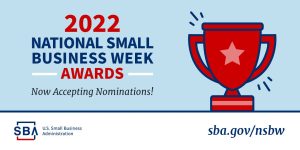 Throughout the pandemic, the American entrepreneurial spirit has helped us propel our nation forward. America's small businesses are helping build back the U.S. economy and we would like to honor these individuals for their resiliency and achievements during SBA's 2022 National Small Business Week.
If you or someone you know has an inspiring small business success story to tell, submit a nomination for the SBA's National Small Business Week Awards. All nominations must be submitted electronically no later than 3:00 p.m. ET on January 11, 2022. Winners will be announced during National Small Business Week in May 2022. Learn more or visit http://www.sba.gov/nsbw
Additional awards are offered at the local level through the SBA Baltimore District Office, click here or visit (www.sba.gov/md).
SBW Awards: How to Nominate Training Webinars
Wed., 12/8/21 @ 12Noon Register
Thurs., 12/16/21 @ 1pm Register
Fri., 1/7/22 @ 10am Register
Register online using the links above or through our calendar of events at www.sba.gov/md
SUPPLEMENTAL MEMORANDUM IN SUPPORT OF NATIONAL SMALL BUSINESS WEEK
Questions? rachel.howard@sba.gov, (410) 244-3337
SBA's participation in this cosponsored activity is not an endorsement of the views, opinions, products or services of any cosponsor or other person or entity. All SBA programs and services are extended to the public on a nondiscriminatory basis. Reasonable arrangements for persons with disabilities will be made if requested at least two weeks in advance. Contact: rachel.howard@sba.gov