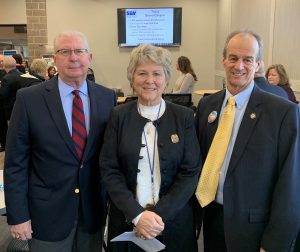 On Monday January 27th at the Salisbury Regional Airport the Salisbury Area Chamber of Commerce hosted the official Ground Breaking Ceremony on behalf of Wicomico County, to kick off the construction of a ten-thousand square foot hanger to house the SBY Center for Innovation.
This one of a kind facility for Drone operations is a game changer for the Airport, Wicomico County and the State of Maryland. Bob Culver Wicomico County Executive addressed a packed house of regional elected and business leaders in the passenger lounge at the Airport.
Executive Culver outlined the significant economic impact this facility and new tenants will bring to the regional economy. Lower Shore Senators Mary Beth Carozza and Addie Eckardt added that these new partnerships are essential to the growth of the State Economy as well.
Airport Manager Dawn Veatch closed out the ceremony with a presentation on the new hanger, its uses and future manufacturing potential.
The Drone Facility is expected to be operational in mid-2020.