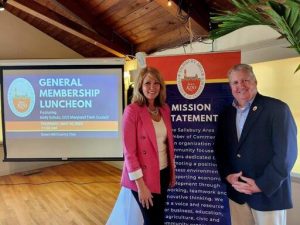 The SACC held its May 23, 2023,
in Quantico, Maryland, with featured speaker Kelly Schulz, CEO of the Maryland Tech Council.
Ms. Schulz started her position as CEO of the Maryland Tech Council in November of 2022 and has witnessed their membership grow to seven hundred twenty members statewide.
Maryland Tech Council is a collaborative community that is actively engaged in building strong technology and life science industries by supporting the efforts of its individual members. They are the largest technology and life sciences trade association in Maryland and provide value by giving members a forum to learn, share, and connect.
"The Tech Council is the largest industry-specific member organization in the state," Schulz said. The Tech Council was born forty years ago in Montgomery County, Maryland, and was a Montgomery County-centric organization for years.
Schulz shared with the more than fifty luncheon attendees the Council has grown well beyond its roots, now expanding to regional Tech Council offices in Baltimore, Prince George's, and the Chesapeake region.
These regional Tech Council offices can identify businesses and industries that would benefit from the statewide Tech Council in advocacy and the development of programs that can be region specific. Schulz added, "We intend to grow the Tech Council footprint to include a regional office on the lower shore and western Maryland in the near term."
Schulz described the burgeoning Life Sciences industry as a catalyst for new Tech growth. Schulz commented, "Statewide, there are fifty-four thousand employed in the Life Sciences industry, and this number is growing. Human Genome Sequencing research began in Maryland."
"The Maryland Tech Council will expand its industry reach to include the energy and agricultural sectors across Maryland," Schulz added.
"These established and emerging markets are key to a strong statewide economy and can be great partners with the Maryland Tech Council."
For more information on the Maryland Tech Council, visit mdtechcouncil.com.