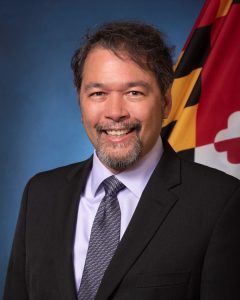 Baltimore, MD – The Maryland State Department of Assessments and Taxation (SDAT) today announced the appointment of Marcus Alzona to serve as Deputy Director, succeeding Corbett Webb, who served the department since 2017 and has accepted a position with the Governor's Office of Legal Counsel.
"Marcus Alzona brings over 30 years of public and private sector experience in software engineering, computer networking, cybersecurity, blockchain, geospatial data, cloud computing and mobile technologies to our team," said SDAT Director Michael Higgs. "SDAT is thrilled to welcome Marcus aboard and we look forward to capitalizing on his extensive knowledge in Information Technology to make our department even more efficient in serving our customers."
"It is a pleasure to serve the Hogan administration by joining the SDAT team, and I am honored to be entrusted with such an important role in the department," said Alzona.
Prior to joining SDAT, Mr. Alzona worked as the Founder & Chief Technologist for keys, a science & technology small business focused on innovation at the fusion of the Internet of Things (IoT), Cybersecurity & Blockchain, Geospatial & Open Standards, Mobile & Wearable Computing, Public Safety & Smart Cities, Connected & Autonomous Vehicles (CAV), and Unmanned Systems (UxS) / Drones.
Previously, he helped provide systems engineering, information technology & communication assessments and program management for over a dozen federal agencies, including the US Department of Homeland Security (DHS), Federal Aviation Administration (FAA), the US Department of Transportation (USDOT), and the National Geospatial-Intelligence Agency (NGA).