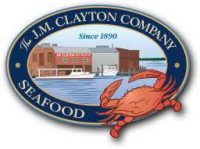 The 2nd Annual Seafood and Canning Show and Sale will be held on Sunday, February 17th at the East New Market Volunteer Fire Department from 10 am until 4 pm.  Vendors and collectors from the Eastern Shore and beyond will be on hand displaying and selling their packing house related memorabilia.  Collectors of canning and seafood related memorabilia as well as those who love the history, art and culture of this time period in Delmarva history must plan to attend.
This history of the canning and seafood packing industry is interwoven with that of the farmers, watermen, their families and laborers of that same time period.  A tremendous part of the population profited by the success of these farm goods processors and seafood houses.  The entrepreneurial spirit of the cannery owners cannot be discredited in this story either.
The connection to this heritage is readily evident and collections began for many by simply storing away personal mementos from their own family story.  Tokens, labels, crates, cans and much more help to put substance to this agricultural and seafood era which is enhanced by the stories of the workers themselves.
The quality exhibitors and dealers at this event will share the stories of the businesses and the families that relate to their offerings.  To those who have not experienced this particular history or hobby, this will be a perfect time to become introduced.
In addition, there will be an Antique Appraisal during this event.  Appraisers Charlene Upham and her husband, Steve Blumenauer will do verbal fair market appraisals on a wide variety of antiques.  These include jewelry, silver, coins and currency, oil paintings, artwork, sculptures, bronzes, quilts, oriental rugs and other textiles, art glass, china, porcelain, dolls, toys, furniture and more.  If items are too big to bring to the Appraisal, clear photos from different angles are helpful in determining a fair market value.  The cost for the appraisals is $5 each or 3 items for $12.
For those who wish to have more information or to rent tables for this event, please call Ann at 410.228.7953/443.786.8522.  Table rental is $20/one, $35/two.  Admission to this event is free, although donations to the Dorchester County Historical Society, a qualified nonprofit organization, are appreciated.  The ENMVFD is located at 4020 East New Market Bypass in East New Market, Maryland.