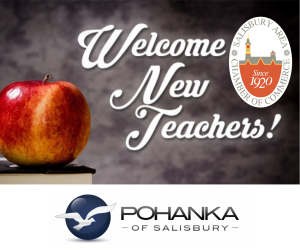 SALISBURY, MD – After more than a year of challenges in the learning environment, many teachers and students will soon be enjoying a much-needed summer break. But come this fall, children will be heading back to school, and Wicomico County will become home to many new teachers.
Relocating to a new area can be a daunting experience. Salisbury Area Chamber of Commerce hopes to make the new teachers feel welcome by providing 185 "Welcome New Teacher Bags" to the new public and private school teachers in Wicomico County.
"The Salisbury Area Chamber of Commerce and our very generous members welcome and support all new teachers to Wicomico County. The New Teacher Welcome Bag program is a small token of the business community's appreciation for these ladies and gentlemen as they prepare to educate our young citizens,´ says Bill Chambers, SACC President/CEO.
"We wish to extend a special thanks to the team at Pohanka Automotive Group of Salisbury. Their ongoing sponsorship, along with the generous donations of many of our Chamber members, helps continue this annual tradition."
The Chamber is encouraging local businesses and non-profits to donate useful items to these teachers for the upcoming school year. It is a great advertising opportunity for businesses and a way to say "thank you" to the teachers.
"Many of these teachers are new to our community, and this will be one of the first contacts that they will have with the great businesses here in Wicomico County. We feel it is important to make them feel welcome as well as educate them on our area businesses and our community. This is also a fantastic opportunity to promote your business."
"We would love to provide even more goodies and community business "swag" such as advertising pieces, coupons, promotional products, goods with your company logo, etc. than ever before," says Chambers.
"In lieu of supplying promotional items, businesses may make a monetary donation, $100 – $150.00 would be ideal!  We will use your donation to purchase additional useful items to include in the bag.  The bags will have a note with the list of sponsors, so even if you donate cash your company will be recognized."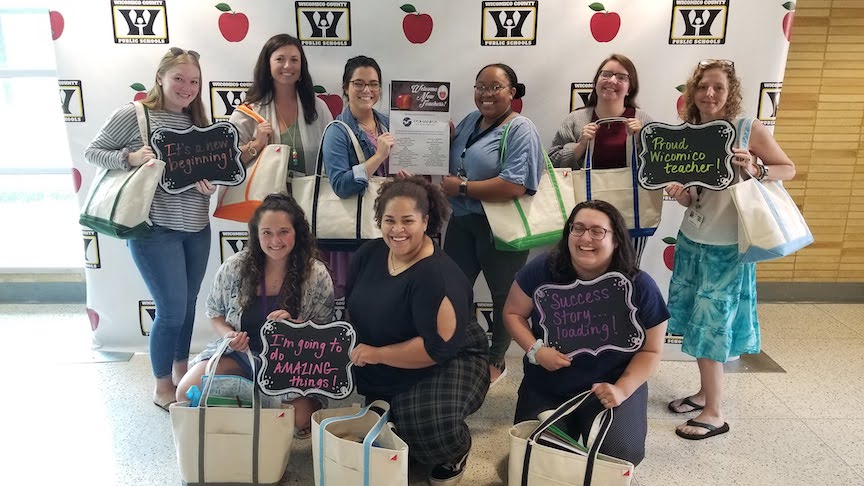 Details About Donating
If you would like to donate an item, promotional products, coupons, or gift cards should be delivered to the Chamber by Friday, July 22, 2022. A minimum of 185 pieces will be needed to fill the bags. We ask that businesses donate physical items that will be useful to the teachers. No flyers or brochures, please.
A Welcome New Teachers Bag stuffing event will be held at the Chamber of Commerce on August 1, 2022. The bags will be distributed to the public school new teachers during the Summer Academy at Salisbury Middle School on August 15, as well as the private school new teachers.
If your business would like to donate an item, or if you would like to volunteer to stuff the bags, please contact Cindy Morgan Chambers at amorgan@salisburyarea.com or at 410-749-0144 x 102.
Thank you to the following businesses for their generous support of our new teachers!