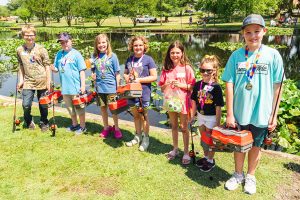 SALISBURY, MD – Over the weekend more than 200 youth fishers and their families lined the banks of the Wicomico River at the Salisbury City Park to participate in Wicomico County Recreation & Parks' annual Youth Fishing Derby.
The free event was held Saturday, June 5. The Department of Natural Resources added hundreds of blue gills to the pond's current inhabitants.
Seven winners were awarded medals and prizes at the event.
Most Fish Caught
Boy – Evan Larson caught 11 fish
Girl – Skyler McCullough caught 27 fish
Biggest Fish Caught
Boy – Nathan Schamberger caught a 11.5-inch crappie
Girl – Ava White caught a 16.5-inch bass
Most Unusual Catch
Boy – Bryce Brown caught a turtle
Girl – Addison Gross caught a 5-inch turtle
Most Outstanding Fisher
Carissa Hayes for displaying positive, enthusiastic energy throughout the derby
In addition to fishing, participants enjoyed music, snacks and giveaways.
"We are so happy to be back in person celebrating the 60th anniversary of the Fishing Derby this year," said Program Director Jamie Nichols of Wicomico County Recreation & Parks. "It was an honor to be able to run the event and experience the joy it brings the community. We'd like to thank the DNR, Target, Walmart, the Hanna Family Foundation and Stanley Morris, the Sea Hawk Sports Center, sweetFrog and all the committed volunteers that help make this event a success."