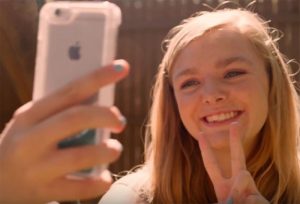 SALISBURY, MD—The Salisbury Film Society (SFS) presents the Golden Globe-nominated comedic drama Eighth Grade 2:30 p.m. Sunday, May 5, in the Fulton Hall Film Center (Room 111) at Salisbury University.
Eighth Grade is a coming-of-age story that follows an anxious Kayla Day maneuvering through her final days of her disappointing eighth-grade year and middle school career. She has struggled to make friends in school, stemming from her social anxiety, and wins the "Most Quiet" award as a result. As she begins making motivational vlogs on YouTube about confidence and self-value, she begins to express herself openly, taking on topics such as social media, self-image, anxiety and boys.
"Eighth Grade offers acute observations on how social media and the language of self-care have warped teen life," said Naomi Fry of The New Yorker. Newsday's Rafer Guzman said, "an achingly honest film about some of the ghastliest years of adolescence."
The SFS series is co-sponsored by the Salisbury Wicomico Arts Council (SWAC) and SU's Charles R. and Martha N. Fulton School of Liberal Arts.  A group discussion follows the screening.
Tickets are $9, $8 for SWAC members, and free for university or college students with ID. For more information call 410-543-ARTS (2787) or visit the SWAC website at www.getswac.org.