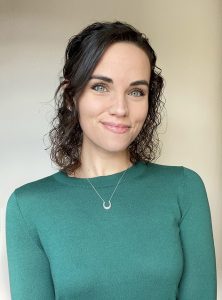 SALISBURY, MD – Shelbie Thompson has joined the Community Foundation of the Eastern Shore as Development and Donor Relations Officer. Shelbie will be working with the Foundation's Development Team in donor management operations, charitable giving development, donor relations, memberships, and events.
"Shelbie is a great addition to the Community Foundation with a diverse background of talents" says Erica Joseph, CFES President. "Her energetic personality, customer service skills, and background with data management, sales, marketing and nonprofits made her a standout candidate for the position."
Shelbie's professional experience includes sales and administration duties at the international media group iHeartMedia, along with positions of Staff Writer for Metropolitan Magazine, and Marketing Associate at Choptank Communications. She is also on the Board of Directors for the Community Players of Salisbury and a graduate of Salisbury University.
"As a Salisbury local, I have seen the inspiring work Community Foundation does and the great impact created in our community. Seeing that impact firsthand over the years is one of the reasons I knew I wanted to be a part of the CFES team," says Shelbie. "I am looking forward to helping donors fulfill their charitable interests in a meaningful way."