Friday, May 15, 2020 was a remarkable day the McCready Health Pavilion in Crisfield, Maryland. Remarkable in that it represented the closing of an outstanding career of caring, compassion and nursing excellence.
Shelley Byrd, a registered nurse at McCready, retired on May 15 after an incredible 50 years of nursing care. That same day, she was presented with the Daisy Lifetime Achievement award in recognition of her remarkable career and dedication to the people of Crisfield and Somerset County.
Shelley started working, officially, at Edward W. McCready Memorial Hospital in August 1969 as a graduate nurse. She's been a fixture at McCready for more than half the time the hospital has been in existence.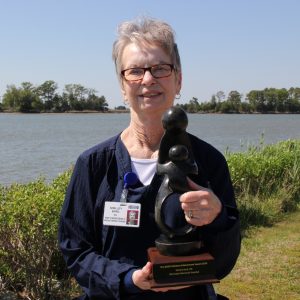 She graduated from North Hampton Accomack Memorial Hospital as an LPN, then Wor-Wic Community College as an RN in 1989. Shelley has worked in all areas of McCready including ER, OR, in the Tawes Nursing Home and in MedSurg. She even helped to deliver a few babies when McCready had an OB unit.
The biggest change that Shelley has seen throughout her career is the responsibility that nurses have now versus responsibilities when she started, and she is proud of the many hats they now wear. She has enjoyed all of the many doctors, nurses, patients and other co-workers throughout the years. She says that everyone she meets has something to offer, and she enjoys serving her community and friends in Somerset County. She has cared for countless numbers of them during her career, and was caring for their grandchildren right up to the day she retired.
Shelley's co-workers describe her as a wealth of knowledge and a pleasure to work with.
Shelley and husband Mike have been married for 47 years. Shelley has two children, a boy and a girl, five grandchildren and one great-grandson. She spends a lot of time with her grandchildren and great-grandson during her days off and enjoys attending their soccer games. When she has any spare time, you will find her riding her bike, taking walks and going to the beach.
The Peninsula Regional Health System and everyone at the McCready Health Pavilion is honored to have worked with and known Shelley. As she retires, her peers congratulate her on a career spanning five decades, and wish Shelley and Mike great health, happiness and relaxation!