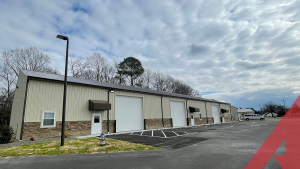 Salisbury, MD – Associate Advisor Shelby Gillis recently brokered a lease securing industrial warehouse space for an established telecommunications company. With several existing locations across the Shenandoah Valley, Shentel now ventures into Sussex County with their lease of 206 Peterson Drive in Seaford, Delaware. As the tenant representative, Gillis successfully negotiated a five year term for +/- 6,000 square feet of industrial warehouse. In addition, Shentel will occupy +/- 15,000 square feet of land to be used as exterior storage.
"We are excited to enter the Delaware market in support of its growing population," said Robert Browning, Director of Supply Chain Management for Shentel. "Shelby and her team at NAI Coastal were an enormous help as we worked together to identify an appropriate distribution center. Each step of the way, she worked closely with our team to ensure all needs were met, thoroughly."
With advanced knowledge of fiber technology, Shentel is strategically opening a location in Sussex County as the region experiences widespread residential growth. With increased residential demand often comes increased demand for commercial services, including those within the telecommunications industry. Gillis identified several well-situated properties before ultimately landing on Peterson Drive, a location that will contribute to the success of Shentel for years to come.
"From start to finish, I enjoyed helping the Shentel team to establish roots on the Delmarva Peninsula," said Gillis. "A company of their stature with their experience and technology will absolutely add value to our community. There is no denying the growth that Sussex County is experiencing; residents and businesses alike stand to gain a lot from their presence on the Shore."
Gillis collaborated with Kelly Jeter of the McClellan Team, SVN Miller Commercial Real Estate, representative of the landlord. To learn more about the lease transaction or to inquire about available industrial space across the Peninsula, contact Associate Advisor Shelby Gillis at shelby@naicoastal.com or by calling (410) 543-5115.