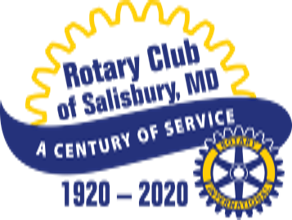 The Rotary Club of Salisbury is pleased to welcome to its Thursday, August 20 meeting Wicomico County Sheriff Mike Lewis. Sheriff Lewis will be joining the club, in person, for the presentation. Social distancing and face masking practices will be enforced.
Sheriff Lewis retired as a Sergeant with the Maryland State Police Pro-Active Criminal Enforcement Team (PACE) after 22 years of loyal and dedicated service on July 1, 2006. In addition to his duties as the agency's leading Drug Interdiction Expert, Sheriff Lewis remains a CERTIFIED INSTRUCTOR through the Maryland Police Training Commission, and a certified MASTER INSTRUCTOR through the National Highway Traffic- Safety Administration. Sheriff Lewis was directly responsible for the training and educating of all Maryland State Police personnel in the Criminal Interdiction Venue or "looking beyond the initial traffic stop" while aggressively enforcing Maryland's traffic laws.
He pioneered the Drug Interdiction Program along Maryland's notorious U.S. Rt. 13 corridor, coordinating many multi-jurisdictional investigations following the seizures of large amounts of illegal contraband. During his 22 years as a Maryland State Trooper, he made many nationally recognized seizures of cocaine from hidden electronically controlled compartments along Maryland's East Coast.
Sheriff Lewis has trained tens of thousands of law enforcement officers extensively throughout the United States and Canada as well as other parts of the world to include; Australia, London, Germany, Russia & the West Indies. Sheriff Lewis has been judicially recognized by the federal & state courts of this country as an expert in the areas of Traffic Stops, Highway Interdiction, Hidden Compartments & Drug Valuation.
He was elected Sheriff of Wicomico County, Maryland on November 7, 2006, and is currently serving his fourth consecutive 4-year term. Sheriff Lewis serves a county of over 103,000 citizens, along with 96 sworn deputies, and five canine handlers.
Sheriff Lewis is Past President of the Maryland State Sheriff's Association, where he served the interests of 23 fellow sheriffs and nearly 2,000 deputies from across the State of Maryland.
The Rotary Club of Salisbury meets every Thursday at 6:00 p.m. in the Rotary Scout and Community Center at 1715 Riverside Drive in Salisbury. To learn more about the Rotary Club of Salisbury or to obtain membership information, please contact Membership Chairman Ginnie Malone at 410-251-6188 or GMalone@cbmove.com or visit the club's website at www.rotarysalisbury.org.