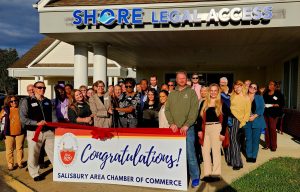 The Salisbury Area Chamber of Commerce was delighted to join Shore Legal Access on October 18, 2023, as they celebrated the rebranding of the organization's name from Mid-Shore Pro Bono to Shore Legal Access.
Guests were welcomed by Tim Abeska, President of the Board, and Meredith Girard, Executive Director.  Girard shared with the attendees "Many have asked me about the name change, and our Board made this very intentional decision to make sure everyone knows where we work, who we service and what we do.  When we started here in Salisbury in 2018, we only had Juanita Sutton, who put us on the map.  We have now grown to 7 employees, thus the need for a bigger office, and we are here helping people who can't afford an attorney, to get the assistance they need.  We can help with wills, power of attorneys, financial legal issues, bankruptcy, family law, assistance with housing, and so much more.   In addition to our amazing staff, we have over 100 volunteers whose services are valued at over $2.5million a year.  Thank you everyone for your support and welcoming us here in Salisbury."
Chamber member Market Street Inn provided a delicious display of appetizers.  Guests also enjoyed the celebratory cake and libations while they networked and toured the new offices at Shore Legal Access in Salisbury.   Door prizes included gift cards from Chamber members Rise Up and VP Shoes, and other local stores, an Italian specialty food gift basket, a Hungry Horse wild huckleberry flapjack gift set, some excellent Shore Legal Access swag. 
About Shore Legal Access
What started in Easton, MD in 2005 as Mid-Shore Pro Bono has since outgrown the name as it now serves eight counties on the Eastern Shore of Maryland and to be inclusive of all the communities they serve, it was time for a name change.  To keep up with the growing demand for their services, they have expanded their Easton and Salisbury offices, hired more staff, and brought in more volunteers. 
The goal of Shore Legal Access is to strengthen the communities of Maryland's Eastern Shore by ensuring equal access to civil justice through connecting low-income individuals and families in need of civil legal help with volunteer attorneys and community resources. We believe all residents of the Eastern Shore, regardless of income or circumstance, should have equal access to civil justice. Based on this belief, we envision a community where all individuals should feel respected and empowered throughout the legal system.
To learn more or to support our work please visit www.shorelegal.org