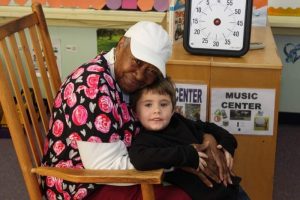 SALISBURY, MD – SHORE UP! Inc. is currently recruiting senior volunteers for the AmeriCorps Seniors Foster Grandparents Program. Individuals ages 55 and older work as mentors in SHORE UP!'s Early Head Start and Head Start centers and in public schools. They help children to develop the skills essential for future success. Foster Grandparents serve 20 hours per week and receive a tax-free stipend.
Romaine Briddell has served as a Foster Grandparent in SHORE UP!'s Berlin Center since 2010. After over 10 years of serving in this capacity, Briddell says she still loves working with children.
"They are just my heart," remarks Briddell. "I had one little child who would not get off the bus unless I was there. I think they all fell in love with me too."
Like Briddell, all Foster Grandparents work closely with children who have special needs, from shyness to physical disabilities. Mentors work with teachers in providing children with the academic tools needed for Kindergarten readiness.
"Sometimes I will read to them and sit down at the table with them to do puzzles, the alphabet, colors, shapes and sizes," smiles Briddell. The work also helps to keep Briddell active. At 81, she still engages in games with the children too.
"We will play Ring around the Roses," recalls Briddell. "I tell them, if Ms. Romaine falls down, you all will have to help me up, and that would make them laugh."
For more information or to enroll in the AmeriCorps Seniors Foster Grandparents Program, contact Program Director Joyce Farrare at 410-749-1142 ext. 1050. Foster Grandparents must have a limited income.
SHORE UP! Inc.is a private, non-profit Community Action Partnership located in Salisbury, on Maryland's lower Eastern shore. Formed in 1965, SHORE UP! serves low-income and disadvantaged persons. SHORE UP! is an acronym for "Self-Help on Rural Economics and Urban Problems." The agency's main focus is to help people reach economic self-sufficiency.