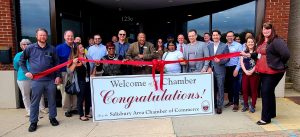 The Salisbury Area Chamber of Commerce welcomed SI Staffing to their membership in November 2020, about six months before they opened their doors on the Eastern Shore MD in March 2021. The official SACC ribbon-cutting took place May 5, 2022, with a group of 35+ that included staff, family, friends, and Chamber members, and was a festive 5 de mayo food and beverage themed event. 
SI Staffing Eastern Shore MD is a franchise organization that opened its doors in March 2021. CEO and owner Donald J. Snydor II, also known as "Tim", was born on the Eastern Shore of Maryland but left immediately after high school. When he returned in 2015 to his native town of Cambridge, MD to serve with the State of Maryland, he had acquired 35+ years of global experience in technology, executive leadership, consulting, senior-level IT auditing and operations, and planning and executing enterprise strategies. 
Tim's blessings have allowed him to return to the Eastern Shore to give back to the place he has always called home and expressed his thanks to the SACC, members of the Chamber Greg Reddell (State Farm), and Brian Nelson (Affordable Business Systems) for helping out during the time he was opening. 
He expressed thanks also to his parent Donald and Carol, his fiancée Tynthia McGee, brother Darryn Sydnor, and of course, his staff Shanna Jefferson and Keisha Thornton for supporting him every day. 
He also recognized visitors from the corporate office, co-owners Yuri Kovalenko and Andrey Gustov, and Operations Director Tim Eade. 
SI Staffing is a staffing service, serving the Eastern Shore of Maryland, which provides staffing for light industrial, medical, clerical/administrative, and transportation positions. With diversity in their internal staff and the associates we provide to our employer partners, SI Staffing maintains an extensive network of qualified skilled and unskilled workers – many from referrals. They are ready to step in when you have tight production deadlines or need specialized talent to complete a project successfully.  
What sets SI Staffing apart?
Locally owned and operated, allows them to deliver the range of services of a large national firm with the decision-making, responsiveness, and flexibility of a local firm.  
Specialized, focusing exclusively on industrial staffing. 
Consultative, working with the client to understand their objectives and work to develop the most efficient and cost-effective way to reach them.  
Knowledgeable, with a deep understanding of the local talent market and trends in hiring, compensation, and competition.
For more information contact SI Staffing Eastern Shore, MD at 123 Camden St, Salisbury 410-561-4999, email tim.sydnor@sistaffing.com or visit their website at https://www.sistaffing.com/contact-us/eastern-shore-md/