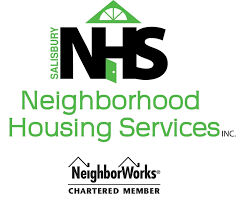 SALISBURY, MD – June 22, 2020- Salisbury Neighborhood Housing Services is partnering with two local organizations to provide food for community members in need. The mobile food pantry will take place at the Salvation Army of the Lower Eastern Shore on Oak St. from 11:00 AM – 2:00 PM on Wednesday, June 24, 2020.
Residents of Wicomico, Worcester and Somerset County can take advantage of this opportunity.  Please bring photo ID and proof of residency.  Additionally, masks must be worn, and food items will be placed in the trunks of cars to adhere to social distancing guidelines.
About Salisbury Neighborhood Housing Services
Salisbury Neighborhood Housing Service (SNHS) is a 501c(3) non-profit organization serving targeted neighborhoods and populations in the City of Salisbury Wicomico, Worcester and Somerset Counties. Its mission is to cultivate sustainable neighborhoods with partnerships and lending that inspires self-reliance, growth and optimism. For more information about SNHS, visit www.salisburynhs.org or call 410.543.4626.