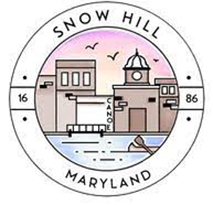 The Town of Snow Hill is pleased to announce the hiring of their new Media, Marketing and Promotions Coordinator, Lorissa McAllister, who has started her position since September 27th. The position will be in an interim status for a transition period, after which the Town will begin advertising requests for applications for the position.
The Media, Marketing and Promotions Coordinator position recently became vacant after the prior Coordinator left the position in early September.  Since then, the Town's intern, SU student Jerry Jeffra, took over some of the duties, such as attending meetings and posting on the Town's Facebook page and drafting press releases, to help with the transition.
The Town of Snow Hill expects a seamless transition for McAllister, as she has worked closely with the Town and its previous Coordinator on several events, projects and training.  She also has experience in leadership as Vice President of Main Street and as a Snow Hill business owner, crucial components of the Town/Business relationship.
As a longtime resident, McAllister opened The Daily Brew Coffeehouse in downtown Snow Hill in 2016 soon after graduating from Salisbury University with a BA in Conflict Analysis and Dispute Resolution. Enthusiastic to participate in the revitalization of the town, she began volunteering for Downtown Snow Hill, Inc, eventually becoming Chairperson for the Main Street Economic Vitality Committee and Vice President of the Board of Directors. She has contributed to and spearheaded many projects and initiatives in her various roles within the community. McAllister has participated in the Maryland Economic Development Association Chesapeake Economic Development Course and is eager to utilize her multifaceted skill set to continue promoting and fortifying Snow Hill.
"I am ecstatic to come onboard with the Town of Snow Hill as the Media, Marketing and Promotions Coordinator," said McAllister. "Snow Hill is my heart and all things related to the economic development of the town is my passion. I look forward to working with the various community stakeholders in supporting the vision and goals of the Town of Snow Hill."
The Town's first event in which McAllister will be stepping into the new role is the upcoming Snow Hill 1st Friday event on October 1st, an event to which she has dedicated countless volunteer hours and energy in other capacities.
More info: email Margot Resto at mresto@snowhillmd.com or call 410-632-2080, ext. 102.