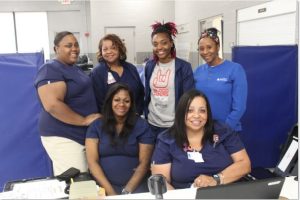 Blood Bank of Delmarva was proud to partner with GSB Media for the historic 3 Alarm Blood Drive held over three days in Chincoteague, Virginia; Pocomoke City, Maryland; and Delmar, Delaware.
This three-day blood drive provided a convenient place to donate lifesaving blood in three major areas of the Delmarva Peninsula thanks to the generosity of sponsors CTG – The Fun & Variety Station, WOW and Bay Country 97.9 FM.
"It's not often that one event covers all three areas of Delmarva, that is to say, Delaware, Maryland and Virginia," Blood Bank of Delmarva Account Manager Bryan Shepherd said. "We have to give credit to CTG, Bay Country and WOW radio stations for being responsible, corporate citizens that understand the value of giving back to their community in a powerful way."
The first stop made the 3 Alarm Blood Drive historic in that we had never been to Chincoteague for a draw. We set up shop in the Chincoteague Volunteer Fire Company, and drew 23 units on Monday, May 23. That was a solid start, for sure.
Next up was the Pocomoke Volunteer Fire Company, which represented the pinnacle of the 3 Alarm Blood Drive. We drew a whopping 45 units in Pocomoke City, Maryland on Tuesday, May 24!
Our last stop had filled 10 of 60 appointments for the Thursday, May 26 draw at Delmar Volunteer Fire Company. In the end, we fought and clawed our way to 16 units to salvage the draw!
Among those donating in Delmar were Salisbury Area Chamber of Commerce President and CEO Bill Chambers and Director of Membership Sigrid Velez.
"We support local blood drives and tell our members about them," President Chambers said. "So, we have to come."
Another donor taking advantage of the Delmar blood drive's propinquity was Barbara Moore.
"I live half a mile away; you can't get much closer," she said. "I was glad you came here."
Tim Justice donated double red cells at Delmar Fire Company after he heard about the 3 Alarm Blood Drive on the radio.
 "We used to be members of the Blood Bank," Tim said. "We just wanted to get back into it."
Last but not least, it was very convenient for Leah Fisher to donate at the Delmar Fire Company because she works there!
"I've never been able to do it because my husband was an ICE agent and he's always been out of the country," Leah said. "He retired, so I can finally do it. I put it on Facebook too."
All in all, it was nice to work with GSB Media and we thank them for being a great partner with us along with all the donors who showed up for the 3 Alarm Blood Drive.
And special thanks to GSB Sales & Marketing Executive Mike Szczechura for being the last donor for the 3 Alarm Blood Drive in Delmar, Delaware.