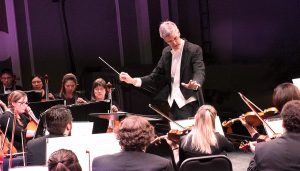 SALISBURY, MD – Guest soprano Jennifer Hope Wills joins the Salisbury Symphony Orchestra at Salisbury University for its annual holiday concert 7:30 p.m. Saturday, December 11, in Holloway Hall Auditorium.
Directed by Dr. Jeffrey Schoyen, the performance includes selections by Irving Berlin, Rodgers and Hammerstein, Randol Alan Bass, Coleridge-Taylor and Rimsky-Korsakov.
Wills, professor of practice in SU's Music, Theatre and Dance Department, made her mark on Broadway, starring as Christine Daae in The Phantom of the Opera and co-starring with Brooke Shields in Wonderful Town. She also has portrayed Belle in the Broadway production of Disney's Beauty and the Beast.
Tickets are $25, $20 for senior citizens and $5 for students, available from the online ticket office at www.salisbury.edu/performingarts.
All attendees at SU events are required to wear a mask while in the audience, regardless of vaccination status. Attendees may be asked to leave an event for non-compliance.
Attendees also must complete an online COVID-19 screening on the day of their visit, prior to coming to the SU campus, at www.salisbury.edu/visitorscreening.
Those planning to park on campus must register in advance for a free parking pass at http://webapps.salisbury.edu/parking/visitor/.
For more information call 410-543-8366 or visit the SSO website at www.salisburysymphonyorchestra.org.