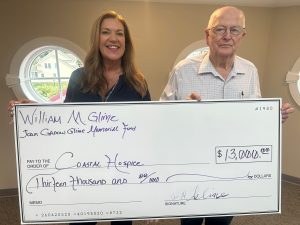 In Memory of Joan Gadow Glime from the JGG Memorial Fund
Ocean Pines, MD – Coastal Hospice is the recipient of a $13,000.00 gift in memory of Joan Gadow Glime who was cared for by our team at Coastal Hospice at the Lake in Salisbury, MD. Her husband, William M. Glime made this gracious donation from the Joan Gadow Glime Memorial Fund. 
During an uplifting conversation with our Director of Advancement, Tammy Patrick, William M. Glime shared, "Joan has been donating to Coastal Hospice since the mid-1980s when her mother, Miriam Taylor Gadow was cared for by the Coastal Hospice team."
We are grateful for the trust they placed in Coastal Hospice for the care of their loved ones. It was our honor to care for Mrs. Joan Gadow Glime and their generous donation will allow us to continue our mission of promoting dignity and quality of life for patients and families who face life-limiting conditions.
To learn more about Coastal Hospice, its services and the many ways people can donate, please visit www.coastalhospice.org.
———————————————–
About Coastal Hospice
The Macky & Pam Stansell House of Coastal Hospice is a state-of-the-art hospice residence and community outreach center in Ocean Pines, MD that provides care for terminally ill patients, palliative care, counseling, grief support, and community wellness programs. Founded in 1980, Coastal Hospice is a nonprofit health care organization that cares for individuals facing life-limiting conditions but who want to remain as active and engaged as possible. Coastal Hospice cares for patients in their home, assisted living, nursing home, Coastal Hospice at the Lake or the Macky & Pam Stansell House. The organization serves Wicomico, Worcester, Dorchester, and Somerset counties. To learn more about Coastal Hospice, please visit www.coastalhospice.org