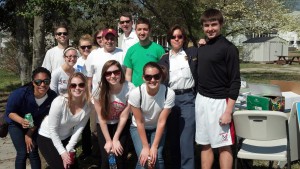 The Salisbury Area Chamber of Commerce Beautification & Environmental Affairs Committee, along with several partners, is planning our second annual community clean-up day on April 12, 2014 from 9 a.m. to noon.  This year the cleanup day has a new name, but the purpose is still the same—clean up litter.  The cleanup day is one aspect of a concerted anti-litter campaign the Chamber of Commerce is promoting.  We are involving other partners, all with a goal to make a difference in how Salisbury/Wicomico County looks by getting rid of litter in the community we love.
We are excited to have a new anti-litter logo to use in promoting the anti-litter message, "Stash Your Trash".  This logo was designed by Kelsey King, a student in the Marketing Department of the Franklin P. Perdue School of Business at Salisbury University.  Priscilla Timken, from Chesapeake Tours & Promotions, secured a grant from the Wicomico Partnership for Families and Children, a local management board with funding from the Governor's Office for Children.  This Funding provided the money to coordinate the efforts to obtain a logo, which involved a student competition.  The grant has also allowed Timken to work with several after school programs involving children in a special project to promote the anti-litter message.  They are hand-quilting a patchwork quilt that promotes the fact that they pledge to "Stash their Trash".  They will have a booth at the Salisbury Festival where they will display the quilt and ask people in the community to take the anti-litter pledge.  So, look for them and take the pledge.
The whole point of all of these efforts is to help people see that we can make a difference in the appearance of our community.  Too many are carelessly dropping trash out their car windows or leaving fast food wrappers in the parking lot outside of our car door.  It has got to stop and you can help!
For the Cleanup Day, we are asking businesses, neighborhood associations and/or neighbors, friends, families, college clubs, and civic groups to consider forming a team to help clean up our streets, neighborhoods, and communities.  Already for April 12th many groups will be working in our community.  The Chamber's ESBLN is taking care of sprucing up the Salisbury Zoo; Salisbury University has their "Big Event"; and Davis, Bowen & Friedel has already volunteered to Cleanup Riverwalk and our Downtown area. It will be a perfect day for you to join in to help make things happen and stash the trash that has been gathering over the winter months. You can form a team or join a team, so sign up today.  Click the link to register your group today.