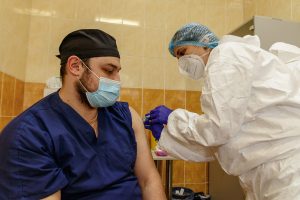 Dear Salisbury Area Chamber of Commerce members,
As you may know, Governor Larry Hogan, and the Maryland Department of Health, in partnership with the Local Health Departments, are making every effort to vaccinate Maryland residents who want to be vaccinated.
We would like the chance to speak with you about how we could partner together to get your employees vaccinated and offer the following resources and options:
Drafted email language for employers to send out to their employees with a vaccine pre-registration link and list of Maryland's mass vax sites.
Pre-registration sign up form to give to employers. They collect contact information from employees wanting to get vaccinated, email the form back to us; we sign them up.
Dedicated appointments to particular employers or essential worker groups at any of Maryland's Mass Vaccination Sites: Six Flags America Theme Park, Regency Furniture Stadium (Blue Crabs Stadium), Wicomico Civic Center, Hagerstown Premium Outlets, M&T Bank Stadium, Greenbelt Washington Metro Station. New sites coming soon: Maryland State Fairgrounds, Montgomery College (Germantown Campus), Navy-Marine Corps Memorial Stadium, Frederick Community College, Leidos Field at Ripken Ironbirds Stadium, The Mall in Columbia. Of note:  As of April 6, Wicomico Civic Center began accepting walk-up appointments from 10 a.m. – 3 p.m., though there are a limited number of slots available each day. A photo ID is required.
Roving mobile clinic (static location weekly throughout the eastern shore counties, starting in Caroline County partnered with the Local Health Department)
Discussion regarding on-site vaccine pod at large employer facilities with medical capabilities (submission form, further discussion and logistics required).
COVID Tool Kit, including social media posts, informational posters, etc.
Please note we urge all of Marylanders to pre-register at the following link or call the Maryland GoVAX COVID-19 Vaccination Support Center at 1-855-MDGOVAX (1-855-634-6829).
If you are interested in receiving these resources or discussing available options, please contact Megan McGinn-Meals, Stakeholder Engagement Manager for COVID-19 Vaccine at megan.mcginn-meals@maryland.gov.
Thank you,
William R. Chambers
President/CEO
Salisbury Area Chamber of Commerce
410-749-0144
bchambers@salisburyarea.com