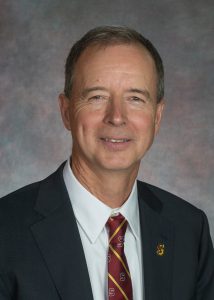 "Senator Paul Sarbanes had a long history with Salisbury University, dating back to his teen years. Accepting an honorary Doctor of Laws during SU's 2006 Fall Commencement ceremony, shortly before his retirement after 30 years as a U.S. senator, he reminisced about playing basketball in the University's gymnasium while growing up in the local community.
"During his time in office, the Senator was a friend to SU, helping to secure funding to expand educational opportunities in the then-Department (now School) of Nursing and to establish the Franklin P. Perdue School of Business' international business curriculum. In 2002, he initiated the Paul S. Sarbanes Lecture Series through SU's Institute of Public Affairs and Civic Engagement (PACE), bringing some of the nation's most prominent legislators to campus. In addition to Senator Sarbanes, high-profile guests included civil rights icon Representative John Lewis and Speaker of the House Nancy Pelosi.
"As a national leader on civil rights, an original composer of the Americans with Disabilities Act, an ally of environmental conservation (including legislation to protect and restore the Chesapeake Bay), and a staunch supporter of consumer protection and corporate reform, exemplified by the Sarbanes-Oxley Act, Senator Sarbanes exemplifies many of the values in which we believe at SU. He was a role model to our students and many others in the greater community.
"We offer our condolences to members of the entire Sarbanes family, who have had many ties to SU over the years."