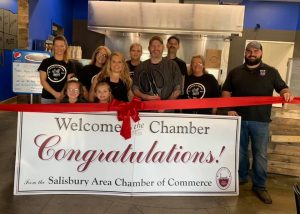 By Cathy Diekmann
Don't you just love a dream come true story? Jeremie & Jenny Burns have been yearning to open their own restaurant for years. Fans of Jeremie Burns' barbeque catering business were also hoping a fixed location restaurant was in the works. It took some years, but the dream came true. Stoked & Smoked BBQ is open for business. They celebrated their Grand Opening with a Salisbury Area Chamber of Commerce ribbon cutting on May 19, 2021
Like many talented chefs, Jeremie Burns developed a love for cooking from his grandmother. After serving in the United States Marine Corps, Burns made the Eastern Shore his home, cooked in several Salisbury area restaurants and earned his A.A.S. Culinary Arts Degree from Delaware Technical Community College.
After graduating, he started a small catering business where customers became fans of his mouth-watering barbecue. Burns puts a lot of attention into the details. Most of their meats and fresh ingredients are locally sourced. All meats are house-smoked and seasoned with Burns' proprietary blend that he developed over the years.
Burns is a man committed to his craft, smoking meats low and slow until they are fall-off-the-bone tender. "Sometimes I have to stay up all hours of the night to get the meats smoked just right. If that's what it takes, that's what I do."
The Stoked & Smoked menu offers homemade sides as the perfect accompaniment to any main dish. Those options include cornbread, baked beans, smokey greens, coleslaw, creamy dill potato salad and mac and cheese. "Nothing comes out of can or box," Burns insists.
Their beach fries rival any boardwalk option and boast a spicy barbeque-like zing. You can get them "loaded" with barbequed pork, chicken or brisket and call it a meal.
All the sauces are homemade and available to purchase by the bottle. That line-up currently includes their Carolina Gold, a mustard-based sauce; Original Sweet; a Sweet & Spicy, with a spicy kick from chipotle peppers, and their Alabama White BBQ sauce. Burns noted, "People are surprised by that one. They say, 'How can a barbeque sauce be white?!" He explains, "It's a mayonnaise base, but it's seasoned with my special barbeque seasoning blend. It's becoming a new fan favorite."
Jenny Burns, Jeremie's wife added that limited-time, seasonal sauces will be as offered as ingredients are available. She noted, "Now that local strawberries are at their peak, we will add a strawberry sauce for the summer."
Those with a sweet tooth will be glad to know that desserts are on the menu too. Jenny Burns remarked, "We love the girls at The Ugly Pie and want to support their business, so we'll be selling their pies here. We will also add our own banana pudding and Jell-O cake to the menu.
At the ribbon cutting event, Jeremy and Jenny Burns acknowledged family, friends, and business partner TJ Ownby, of The Mad Hatter Café, who helped make their dream come true. Jeremie summarized the dream by saying, "We want to keep it family oriented with a super-chill atmosphere where everybody knows your name."