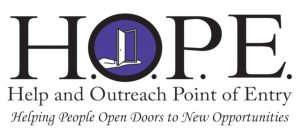 SALISBURY, MD – "Persistence pays off." How many times have we heard that statement or one very similar?  Whether participating in activities that require practice or whether waiting for that fish or deer to appear, the power of being persistent can make all the difference.
At H.O.P.E., those wise words rang very true in early January of this year when, after years of trying, we were able to obtain a client's "Delayed Certificate of Birth." Born at home, the client's birth was never registered with the health department. For over fifty years this individual had survived by being paid in cash, never being able to open a bank account or get a good-paying job. Strict forms of identification are needed for both of these and to get an ID, a birth certificate is needed.
Most of us never give getting the documents we need a second thought. Over the last five years,  H.O.P.E. has worked on behalf of this client, repeatedly submitting documentation in attempts to satisfy the requirements of Maryland Vital Records. Sadly, trying to survive without education and proper documentation, led to drug issues which resulted in the client being frequently incarcerated.  This often delayed attempts to work through the process even more.
On January 5th, H.O.P.E. was finally able to hand the client a birth certificate and witnessed a heartwarming reaction of pure joy. The first thing the client said was "Now I can get my driver's license, open a bank account, and get a car."
Never doubt, "persistence pays off" in more ways than we may realize!
Jesus' parable about the fig tree teaches us that persistence and prayer can accomplish many things in life. Thank you Jesus for loving us and giving us the opportunity to be a part of your loving embrace. Luke 13: 6-9
We couldn't do our work without your support! Thank you!
Donna Clark, RN
Executive Director
Editor's Note:  H.O.P.E. works out of the basement of Wicomico Presbyterian Church. If you know of someone in need who would benefit from H.O.P.E.'s services, please email hope@hopesby.com or call 410-677-0757.