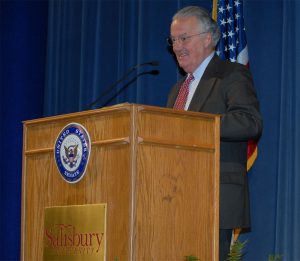 SALISBURY, MD—From 2002-2007, Salisbury University's Paul S. Sarbanes Lecture Series brought some of the nation's most prominent legislators to campus to share their insights with students and the community.
SU's Institute for Public Affairs and Civic Engagement (PACE), which worked with the late U.S. Senator Sarbanes to facilitate the series during his time in office, is accepting donations for a possible revival of the initiative. The series will bring notable figures to SU to share insights on issues of public policy.
Sarbanes inaugurated the series as its first speaker in 2002. Additional guests included Speaker of the House Nancy Pelosi; civil rights leader Representative John Lewis; and longtime U.S. Senator Richard Lugar, co-sponsor of the Nunn-Lugar Cooperative Threat Reduction Act, which facilitated the decommissioning of nuclear, biological and chemical weapon stockpiles in the former Soviet Union.
Its most recent speaker was U.S. Senator Ben Cardin, who was elected to fill Sarbanes' seat upon his retirement from politics in early 2007.
For more information visit https://giving.salisbury.edu/campaigns/paul-s-sarbanes-lecture-series-pace.