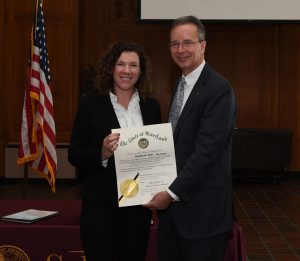 SALISBURY, MD—Salisbury resident Meredith "Merry" Mears has been commissioned as a member of the University System of Maryland (USM) Board of Regents.
Mears is a 2001 graduate of Salisbury University's Franklin P. Perdue School of Business with a B.S. in business administration and marketing.
She is a licensed real estate advisor with NAI Coastal and chief development officer of Gillis Gilkerson Construction and Development Company. She also owns M3 investments, a company engaging in local real estate opportunities.
"The career success Merry has earned with her SU degree is impressive," said SU President Charles Wight. "She also has remained engaged with her Alma Mater and is very active in the community. I am excited that the USM Board of Regents will have the opportunity to benefit from her insight and expertise."
Previously, Mears served as the economic development director of Worcester County, and has held positions with the Maryland Department of Human Resources and Tri-County Council for the Lower Eastern Shore of Maryland.
Currently, she is a board member for Maryland Capital Enterprises, 1 Year to Empowerment, the Atlantic General Hospital Foundation and Leadership Maryland (from which she graduated in 2017).
Mears formerly served on the boards of directors for the Maryland Economic Development Association, the Delmarva Water Transport committee, Habitat for Humanity of Worcester County, the Greater Ocean City Chamber of Commerce Foundation, and Wor-Wic Community College's Local Advisory and Planning councils. She also volunteers with Junior Achievement of the Lower Eastern Shore.
Appointed by the Governor, Maryland Senate President and Speaker of the House of Delegates, each regent serves a five-year term on a 21-member board, with an option of being renewed for a second term.
The board is charged with overseeing the USM's academic, administrative and financial operations; formulating policy; and appointing the USM Chancellor and presidents of the system's 12 institutions.
For more information call 410-543-6030 or visit the SU website at www.salisbury.edu