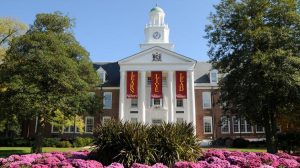 SALISBURY, MD—The Salisbury University Alumni Association has welcomed three graduates to its board of directors: Lori Defnet of Baltimore, MD; Melissa Stansbury of West Columbia, SC; and Danielle Twilley Sweitzer of Delmar, MD.
Defnet earned a B.S. in both accounting and information systems in May 2014. A Certified Personal Accountant, she currently is a financial reporting manager for WillScot Corporation, a leader in temporary workspace solutions. Previously, she was a senior accountant for Under Armour, Inc, and audit senior associate for KPMG, LLP.
At SU, she was a student business leader in the Franklin P. Perdue School of Business, and competed on successful teams at entrepreneurship and case competitions. She also helped lead SU club field hockey to its first club national tournament in 2013.
A two-time SU alumna, Stansbury earned a B.S. in exercise science in 2011 and an M.S. in applied health physiology in 2013. Currently, she is pursuing her Ph.D. at the University of South Carolina and she works as a research assistant at its Technology Center to Promote Healthy Lifestyles.
Previously she was a health and wellness specialist for EXOS|MediFit, and was general manager of Merritt Athletic Clubs in Towson, MD. She also was an assistant volleyball coach for SU and Towson University.
A three-time graduate, Sweitzer earned a B.S. in elementary education in 2008, an M.Ed. in post-secondary education in 2009, and a B.S. in Nursing in 2011. She will finish her M.S.N.-Family Nurse Practitioner from Wilmington University in December. She is a registered nurse in Peninsula Regional Medical Center's Emergency Department and a nurse manager for infections control at Peninsula Plastic Surgery.
As a player on the SU field hockey team, she won two NCAA Division III national championships in 2004 and 2005, and added a third as an assistant coach in 2009. She is a two-time first team All-American. Her husband, Colin, also graduated from SU in 2000.
"The SU alumni network is some 55,000 strong," said Jayme Block, assistant vice president of development and alumni relations. "The Board of Directors is grateful for the enthusiasm and support of our newest members."
The board members will serve two three-year terms.  For more information call 410-543-6042 or visit the SU website at www.salisbury.edu.