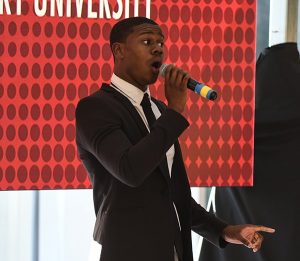 SALISBURY, MD—Recent Salisbury University graduate Jeremiah Copeland ended his undergraduate studies at SU on a high note, winning his category at the National Association of Teachers of Singing (NATS) National Student Auditions.
The victory for Copeland in the Upper College Men's Musical Theater category marks the third year in a row an SU student has finished in the top three in their category at the national level. Copeland, of Salisbury, earned a $1,600 prize for his efforts.
     "I have been participating in this competition for four years," said Copeland. "My freshman year I did not make it past regionals. Sophomore year I made it to nationals in Las Vegas, but did not advance to the finals. My junior year I didn't make it past regionals, which felt like a step back from the previous year. However, my senior year, despite the challenging and unprecedented times, I won my entire category. That feels good. I encourage my brothers and sisters in the arts to remain steadfast, to keep learning and growing, and never give up. You will hear a lot of 'nos,' but at some point, an affirming 'YES!' will come. That's what I've learned from my NATS experience."
     Accompanied by pianist Veronica Tomanek, Copeland performed "Lost in the Wilderness" from Children of Eden) by Stephen Schwartz in the virtual finals format as the NATS National Conference was moved online due to the COVID-19 pandemic.
     SU also was represented by four other students who made it to the national semifinals: Olivia Davidson of Salisbury; Patrick Gover of Clarksville, MD; Lance Fisher of Salisbury and Gianna Pesaniello of Snow Hill, MD. All are students from the studio of Dr. John Wesley Wright.
    Video of Copeland's award-winning performance, is available at www.youtube.com/watch?v=Q6TtxDKkaYs&feature=youtu.be.
     For more information call 410-543-6030 or visit the SU website at www.salisbury.edu.