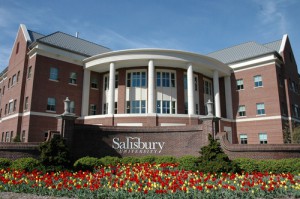 SALISBURY, MD—As businesses, schools and other gathering places continue phased reopenings while still attempting to slow the spread of COVID-19, Salisbury University is providing a new resource for the community.
SU recently unveiled a series of downloadable, printable signs, available for public and private use, with a goal of keeping the community safe while visiting local businesses and public buildings.
"As SU prepares for the return of students, faculty and staff this fall, we have considered the need for these types of communications and reminders on best practices in social distancing, face mask use, hand washing and more," said Eli Modlin, SU chief of staff and director of government and community relations. "We are happy to share this signage for use by businesses and others in the community facing similar considerations in welcoming back members of the public."
In addition to safety advice, signs also are available to mark public facilities (sinks, water fountains, etc.) temporarily not in use, best practices for public spaces and the location of hand sanitizer stations, among others.
The downloads are available at SU's COVID-19 webpage: www.salisbury.edu/COVIDsigns.
For more information call 410-543-6030 or visit the SU website at www.salisbury.edu.