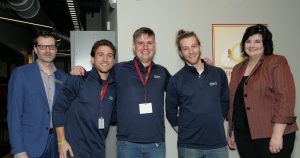 Salisbury, MD – Judges in the 21st round of Salisbury University's Philip E. and Carole R. Ratcliffe Foundation Shore Hatchery entrepreneurship competition sipped their way to tranquility, awarding adaptogenic tea Zenjoy with this semester's top funding amount: $35,000.
Mack Anderson, Tim Brumbaugh and Daniel Osborne of Zenology, LLC, impressed the judges with the call to "find your zen." The stress and anxiety relief tea company boasts a proprietary "Zen Blend" that works to lower cortisol using natural ingredients including ashwagandha and L-Theanine.
The funding will help expand distribution beyond the company's current 400 retailers across Maryland and Washington, D.C.
Held at the University's Dave and Patsy Rommel Center for Entrepreneurship at SU Downtown, the competition featured 37 applicants from throughout the Mid-Atlantic vying for their share of $103,000 in prize money. Other winners included:
Gifts Fulfilled – Kim Shanahan: This mission-based company from Berlin, MD, was founded to create jobs for people with disabilities. The company creates, assembles and delivers gift baskets, boxes and care packages – $25,000
Counter-Intuitive Cooking – Maxwell Wieder: The Eldersburg, MD-based company introduced Celcy, the automated countertop robot that combines a freezer and oven to offer on-demand, quality food. – $10,000
Keppel and Kismet – Nichole Sullivan: The Baltimore-based small-batch manufacturer partners with small- to medium-sized businesses to offer inventory production, custom signage and merchandise of bespoke goods made of wood and other quality materials – $10,000
Salisbury Dance Academy – Elena Manakhova: This facility provides Salisbury and surrounding communities with hands-on opportunities to learn and perform professional dance skills in individual and class environments – $10,000
Quantum Senses – Justin Lee and Gregory James: Based in Prince George's County, MD, this company provides organic, innovative and affordable technology solutions to enhance the holistic experiences of the five senses to improve consumers' quality of life – $8,000
Elucidi – Suker Li, Kelton Clark and Mark Jeutten: With a focus on facilitating and diving the sustainable future of the Chesapeake Bay, this Baltimore-based business enables technologies for both farmers and restorationists – $5,000
In addition to funding, winners and participants also receive mentoring support from the program's board. Mentors include business leaders such as Chris Perdue of Perdue Farms, Inc.; Mike Cottingham of the Rommel Companies; Kathy Kiernan and Patricia Royak, members of SU's Franklin P. Perdue School of Business Executive Advisory Council.
This round's winners join the program's 108 previous award recipients, who have self-reported estimated profits of some $29 million, creating 1071 jobs.
"This competition was fierce," said Carlene Cassidy, Ratcliffe Foundation CEO, adding that, whether the business startups selected to participate won or lost, "This is a stepping stone in your journey. The people in this room are here to help you."
The Ratcliffe Foundation Shore Hatchery program was established with an initial $1 million contribution in 2013. In 2017, the Ratcliffe Foundation announced a second $1 million gift to continue the Shore Hatchery through this spring, followed by the most recent announcement of an additional $900,000 to maintain the program through at least 2026.
Administered by the Perdue School, its goal is to fund and provide guidance to entrepreneurs with active small businesses in order to achieve greater scale and market reach.
"This program offers an important stepping stone for startups," said Michael Jensen, SU executive director of entrepreneurship.  "The award removes specific obstacles to growth and enables expansion."
Up to $200,000 annually is available for those applying for grants through the Shore Hatchery program. Its board of directors selects recipients based on presentations. All competitors have the opportunity to meet with SU's team at the Rommel Center for Entrepreneurship to discuss resources available to support their businesses.
For more information call 410-546-4325 or visit the Ratcliffe Shore Hatchery webpage https://www.salisbury.edu/academic-offices/business/shore-hatchery/.
Learn more about opportunities to Make Tomorrow Yours at www.salisbury.edu.