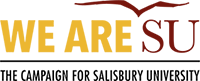 SALISBURY, MD—The community is invited to attend the following open interview sessions for candidates for Salisbury University's associate vice president for diversity and inclusion and chief diversity officer position:
• Monday, March 2 – Dr. Joshua Segui
• Wednesday, March 4 – Dr. Rhonda Brown
• Monday, March 9 – Joan Williams
• Wednesday, March 11 – Christopher Hunt
All open sessions are scheduled at 3 p.m. in Conway Hall Room 153.
Each candidate has been asked to give a presentation in response to the question, "Given the acts of racist and sexist hate at SU in fall 2019 and into the present, what specific strategies would you employ, as chief diversity officer, to improve the campus climate now and in the long term?"
A question-and-answer session will follow. Curriculum vitae for each candidate may be viewed at the Patricia R. Guerrieri Academic Commons.
Those coming from off campus are required to display a visitor parking pass, which may be requested from the Parking Services website at https://webapps.salisbury.edu/parking/visitor. Visitors are encouraged to park in Camden Lot F (adjacent to Blackwell Hall).
For more information visit the SU website at www.salisbury.edu.