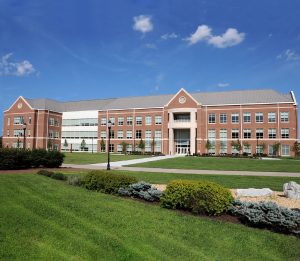 SALISBURY, MD – On the Delmarva Peninsula, boat owners are a huge clientele base.
Salisbury University marketing major Johnathan Howell of Berlin, MD, has already begun delving into that market with his Ocean City, MD-based business Howell's Dockside Services, specializing in boat detailing and preparation, including bottom painting and winter preparation.
As this year's winner of the $15,000 Bernstein Achievement Award for Excellence, bestowed during the 34th annual Franklin P. Perdue School of Business Entrepreneurship Competitions for SU students, he will be able to expand his company with a new vehicle and equipment.
"Our ideal range is pontoon owners all the way up to sport fisher owners," he told the competition's judges, noting he already has three years of experience in the industry. "Our customers care because what we do is not only important to properly maintain a boat, but it's time-intensive. If they had to do it themselves, they would lose that time on the water."
The Bernstein Award is sponsored by LWRC International and Rommel Chesapeake, Inc. It also includes $5,000 in business services from SU's Business, Economic and Community Outreach Network (BEACON). Working his way up to the grand prize, Howell also won $2,500 in cash during the Entrepreneurship Competitions' "Gull Cage" round (an elevator pitch competition similar to the hit ABC-TV show Shark Tank) and $1,000 in the "Invest in My Idea" poster presentation round, plus a James A. List Award for four hours of legal services valued at $1,580 for a total prize package of $25,080.
For the second year, the competitions were held virtually due to ongoing SU COVID-19 precautions. Some 35 teams participated in this year's competition, representing students throughout campus following a continuing University-wide campaign to inform and encourage those enrolled in all of SU's schools and colleges to participate in the competitions.
Students also were urged to use resources from the Perdue School and its communitywide entrepreneurship ecosystem to prepare their entries. These tools included the Perdue School's Innovation, Entrepreneurship and Economic Development Hub, which provided virtual peer-to-peer business planning and coaching services.
Entrants also received training and support from Maryland Capital Enterprises; John Hickman, regional director of the Small Business Development Center at SU; Bill Bernard, rural business innovation mentor at the Maryland Technology Development Corporation (TEDCO); and Mike Thielke, executive director of the Eastern Shore Entrepreneurship Center, hotDesks Coworking and F³ Tech Accelerator. Outside the Hub, students consulted with local experts, such as Michelle Leveque of Leveque Intellectual Property Law.
SU faculty also provided workshops and office hours for students. They included Dr. Aaron Johnson, assistant professor of marketing and, Bob Morrison, management lecturer.
Placing second in the Bernstein round was Downshift DIY Garage, the City of Salisbury Mayor's Award winner in last year's Entrepreneurship Competitions. Led by finance major Sean Bernard of Germantown, MD, the business plan to provide shared space for do-it-yourself automotive repair and restoration earned $5,000 in cash plus $5,000 in BEACON business services, along with $2,500 in the Gull Cage round and $1,000 in the Invest in My Idea round, for a total prize package of $13,500.
BlockOut, a device proposed by economics majors Samuel Brookbank of Mechanicsville, MD, and Terry Waddell of Salisbury to block out light and sound to provide customers with a better night's sleep. Brookbank and Waddell, both members of SU's Freshman Entrepreneurship Living Learning Community (LLC), placed third, earning $5,000 plus $1,000 in the Invest in My Idea round for total winnings of $6,000.
In addition to the three finalists, 12 other business plans received $1,000 each during the "Invest in My Idea" round. Cash awards for this round were provided by Bank of America, Chesapeake Utilities, Hebron Savings Bank, Layton's Chance Vineyard Winery, M&T Bank, Private Wealth Partners, the Quintellas, Sisk Fulfillment Service, TEDCO, Worcester County Economic Development, and entrepreneurs Michele Garigliano, Kathy Kiernan and David Landsberger. They included:
Annapolis Ascent (drone photography and data services) – Nick Kiraly (also won the Simple Fiber/Davis Strategic Development Award: $1,000 cash and $4,500 in services, including six months of coaching/advising and free data center rack space; and a James A. List Award: $1,580 in legal services)
Clean Pets (innovative dog house) – Kathleen Sonneveldt (also a member of SU's Freshmen Entrepreneurship LLC)
CLUTCH by Tia Dash (hand-crafted purses) – Shantiyyah Hobby (also won the City of Salisbury Mayor's Award: $3,000 start-up grant and $2,000 in business services for a business startup planning to locate in Salisbury; the Salisbury Wicomico Economic Development Award: $500 in cash and $500 in services, including business plan development, location scouting and mentoring; and an SU Office of Diversity and Inclusion Award for businesses owned or operated by, or serving, underrepresented populations or those with disabilities: $400 in cash)
Cupcakes by Frosted (cupcake bakery) – Lindsay Jones (also won an SU Office of Diversity and Inclusion Award: $250 in cash)
Digalyne Consulting, LLC (digital strategy for small businesses) – Ajia Allen (also won an SU Office of Diversity and Inclusion Award: $100 in cash)
Doubted Success (online platform) – Devin Garrett (also won an SU Office of Diversity and Inclusion Diversity Award: $250 in cash)
Little Paws Bakery (dog treat bakery) – Dalilah Erber, Ashley Bardzell, Rachel Bennington, Isabel Medford and Taran Radford (also won a James A. List Award: $1,580 in legal services)
Quick Meal (mobile app) – Andrew Borkowicz and Jarred Walls
Slipeez Shower Shoes (slip-resistant water shoes) – Veronica Sadtler (also won the SU Veterans Service Award: $550 in cash and $750 in business services, presented to a business startup owner who is a current or former member of the military, national guard or reserves; is a member of the SU ROTC program and the Freshmen Entrepreneurship LLC; or whose startup is a military-friendly business with a military-based market)
SoberRides (designated driving service) – Maxwell Riley and Sergio Nazzaro
Shower Hook (towel-holding device) – Dhanisha Hettige, Matthew Carr, Joshua Dulin, Ben Luman and Nicholas Norris
WE Brewing (unique brewery) – William LioGiudice and Jordan Smith (also won the F³ Tech Award: $15,000 in technology services for an agriculture- or aquaculture-related startup)
Two other entrants also received business sector awards. Enimsaj the Brand, a body sculpting business proposed by Jasmine Lloyd, won the CareFirst BlueCross BlueShield Award ($2,500), presented to a startup plan for a health- or wellness-based business. B4U Makeup, a hypoallergenic makeup brand proposed by Rebekah Noonan, also won a James A. List Award for $1,580 in legal services.
Regardless of whether their proposals were selected for funding, all participants had the opportunity to win raffles with prizes donated by BeachUm, SU Entrepreneurship administrative assistant Heather Brooks, Burley Oak Brewing Co., Plak That Printing Co., and Rommel's ACE Hardware.
For more information call 410-543-6030 or visit the SU website at www.salisbury.edu.