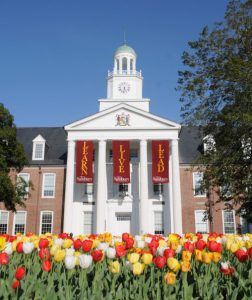 SALISBURY, MD – Salisbury University recently bid farewell to 33 faculty and staff who retired in fiscal year 2021. Together, they have influenced thousands of students throughout the years, representing more than eight centuries of experience.
They are (date of hire in parentheses): Marvin Tossey (1978), Social Work; Linda Cockey (1979), Music, Theatre and Dance; Mike O'Loughlin (1980), Political Science; Pat Lamboni (1982) and Jill Stephenson (1995), Athletics; Charles Palmer (1983), Althea Jones (1996), Gertrude Hutt (1997), Lola Andrews (1999) and George Vandenbergh (2005), University Dining Services; Sidney Schneider (1986), Applied Health Physiology; Lawanda Dockins-Mills (1988), Marie Bradford (1990) and Robin Evans (2009), Student Affairs; Stephen Gehnrich (1988), Betty Smith (1992), Mark Holland (1993), Samuel Geleta (1999) and Wanda Perkins (2003), Biological Sciences; Craig Clarke (1989), Psychology; Baron Polk (1992), Daryl Carter (1999), Joanne Nicholson (2001) and Margo Palmer (2006), Housekeeping; Jeffrey Kottemann (1994), Information and Decision Sciences; Wayne Gorrow (1997), Campus Recreation; Michele Bracken (1999), Nursing; Tylor Claggett (2002), Economics and Finance; Roberta Adams (2003), Political Science; Cynthia Nyirenda (2004), SU Libraries; John LaManca (2005), Exercise Science; Olivier Roche (2006), Management and Marketing; and Marvin Pyles (2008), Administration and Finance.
For more information call 410-543-6030 or visit the SU website at www.salisbury.edu.