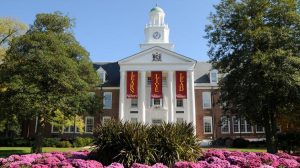 SALISBURY, MD—Salisbury University celebrates the following faculty and staff accomplishments:
A study co-authored by Dr. Christina Bradley, assistant professor of biological sciences, recently was published in the journal Limnology and Oceanography.
Bradley and her colleagues from the University of Washington, College of Charleston, University of Hawaii at Mānoa, University of California Berkeley, Villanova University and the Hawaii Institute of Marine Biology documented life in the largest coral reef in the mesophotic zone of the Hawaiian Archipelago.
Their findings included a surprising flexibility of energy acquisition by coral in areas where light levels are less than 1 percent of those on the surface.
Dr. Jennifer Brannock Cox, associate professor of communication arts, has been named a finalist in the Association for Education in Journalism and Mass Communication's Great Ideas for Teaching (GIFT) competition for the second time in three years.
Cox's submission, which will be presented during a poster session at the association's annual conference in Toronto in August, was based on her "Committing Acts of Journalism" curriculum used as part of her Engaging the Community Through Journalism class, part of the SU Honors College.
Through the curriculum, non-communication arts majors received training in understanding the real-life impacts of journalism work by engaging with community members, developing an understanding of the issues affecting them and producing news to serve that audience. The students' articles are scheduled to appear in local publications throughout the summer.
Kevin Mann, SU Physical Plant director, has been selected as a 2019 Pacesetter Award recipient by international trade organization APPA – Leadership in Education Facilities.
The honor recognizes excellence in educational facilities management. Mann will receive the award during APPA's annual conference in Denver in July.
For more information call 410-543-6030 or visit the SU website at www.salisbury.edu.