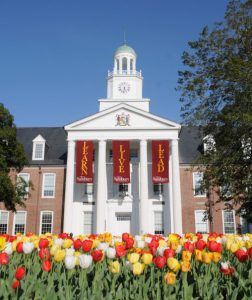 SALISBURY, MD—Salisbury University celebrates the following recent faculty, staff and student achievements:
Dr. Mary DiBartolo, Fulton Endowed Professor of Geriatric Nursing in SU's School of Nursing, has been inducted into the American Academy of Nursing (AAN) 2020 Class of Fellows. This year's 230 members were selected based on their extraordinary contributions to the nursing profession.
In addition to her many publications and presentations on aging-related topics and educational strategies, DiBartolo also continues her role as a researcher, educator and advocate for patients and families dealing with Alzheimer's and Parkinson's diseases. She also serves as host of the School of Nursing-sponsored Focus on Health education series on PAC 14, where she has produced more than 300 programs.
She hopes to serve on the AAN's Aging Expert Panel as part of her service to the Academy.
SU Earns EAB Technology Recognition 
SU recently earned recognition from EAB Technology for using the company's Navigate Student app to raise cumulative student grade point averages.
EAB's in-house "Discover the Value" series noted that promotion of the phone app and its Study Buddies program increased its users' cumulative GPAs by an average .11 points. Student users also ended the fall 2019 semester with higher class credit completion ratios.
SU staff leading the promotion of the Navigate app and platform at SU included Dr. Melissa Boog, associate vice president of academic affairs; Dr. Heather Holmes, Center for Student Achievement director; and Sarah Timko-Jodlbauer, Academic Advising Center director.
Perdue School Students Win DMAW/EF MAXI Case Competition 
A team from SU's Franklin P. Perdue School of Business recently won the Direct Marking Association of Washington Educational Foundation's (DMAW/EF's) fall 2020 regional Collegiate MAXI Case Competition.
Coached by Irina Piatselchyts B.S. '11, M.B.A. '16 of the Management and Marketing Department (who participated in two MAXI case competitions as a student), the team was charged with creating an integrated marketing plan to re-engage lapsed donors to Disabled American Veterans, a national non-profit organization serving disabled military veterans and their families.
Team members included seniors Theresa Aronne of Silver Spring, MD; Elizabeth Dean of Cambridge, MD; and Helen Martin of Kingsville, MD.
For more information call 410-543-6030 or visit the SU website at www.salisbury.edu.