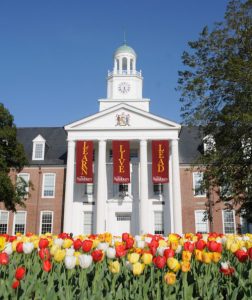 SALISBURY, MD—Salisbury University celebrates Maryland Humanities' One Maryland One Book program with a series of events this fall.
This year's book is The Island of Sea Women by New York Times bestselling author Lisa See. The novel chronicles 50 years in the lives of Young-sook and Mi-ja, two friends living on the Korean island of Jeju. The book highlights the haenyeo culture of female divers and the cultural history of Korea.
SU's activities begin Friday, September 25, as Delmarva Public Media's Harold Wilson discusses East Asian history as it relates to the novel with Dr. Michael McCarty, associate professor of history. The interview may be heard at 9:30 a.m. on WSDL 90.7 FM or online at www.delmarvapublicradio.net.
On Tuesday, September 29, the Charles R. and Martha N. Fulton School of Liberal Arts celebrates SU Giving Day by providing free copies of the book at the Fulton Giving Table in front of the Fulton Hall fountain (rain location: Fulton Hall lobby, outside the University Gallery). Distribution is 11 a.m.-1 p.m. or while supplies last.
Dr. Kara French, associate professor of history, discusses "Female Husbands and Walking Marriages: Gender Roles in a Global Perspective" 2 p.m. Friday, November 6. This One Maryland One Book virtual event is co-sponsored by the Worcester County Library, Maryland Humanities, and Institute of Museum and Library Services. To register visit https://worcesterlibrary.libcal.com/event/7086942?hs=a.
The Fulton School hosts a closing discussion on the book 3:30 p.m. Tuesday, November 17, as part of this year's fall Fulton Faculty Colloquium series. Registration for the virtual event is available at www.eventbrite.com/e/fulton-colloquium-tickets-116620385713.
The One Maryland One Book program was created to bring together diverse people in communities across the state through the shared experience of reading the same book. Discussions and related programs are held at public libraries, high schools, colleges, museums, bookstores, and community and senior centers throughout Maryland.
For a complete list of activities, visit https://www.mdhumanities.org/events.
For more information about SU's events, call 410-543-6450 or visit the SU website at www.salisbury.edu.