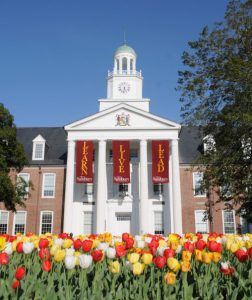 SALISBURY, MD – Salisbury University is celebrating the following recent successes:
SU FMA Earns Superior Chapter Award
Salisbury University's student chapter of the Financial Management Association (FMA) received the international organization's 2020-21 Superior chapter Award.
Advised by Dr. Ani Mathers, associate dean of SU's Franklin P. Perdue School of Business, the SU chapter was honored for its success in adapting to a virtual environment during the COVID-19 pandemic and for new and continuing Financial Literacy Week programming, among other achievements. The award is given to fewer than 10% of the organization's 175 student chapters annually.
Business Leaders Honored for SU Support
The international Financial Management Association (FMA) has honored two business leaders and Salisbury University alumni for their support of SU's FMA student chapter.
Ron McGann '88, vice chairman of J.P. Morgan Private Bank, was named an FMA Outstanding Financial Executive. Catherine Mucciolo '15, Fannie Mae capital markets analyst, was recognized as an FMA Professional Honor Society member.
Both have served as presenters in the SU FMA's speaker series, and provided students with advice and coaching based on their background and expertise. McGann also plays an integral role in the SU FMA's annual visit to New York.
In addition, McGann is a member of the Salisbury University Foundation, Inc., board of directors and serves on the Perdue School Executive Advisory Council. Mucciolo serves on the Perdue School Career Advisory Board.
UDS Earns Loyal E. Horton Dining Award
Salisbury University Dining Services (UDS) has earned a 2020 Loyal E. Horton Dining Award from the National Association of College and University Food Services (NACUFS).
SU was one of three institutions to earn the Gold Award in the Catering – Special Event category, under the direction of Kelli Delgado, UDS associate director. The award was presented for UDS' catering work for the inauguration of SU President Charles Wight. This is UDS' fourth NACUFS award for excellence in catering.
Entries were submitted by 58 NACUFS members. The Horton Dining Award recognizes innovative ideas and program implementation in the college and university food service industry.
For more information call 410-543-6030 or visit the SU website at www.salisbury.edu.