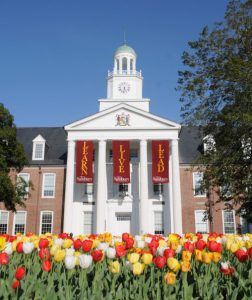 SALISBURY, MD – Salisbury University celebrates the following recent faculty achievements:
Chambers Publishes Beer Regulations Study 
A study on beer regulations in every state, co-authored by Dr. Dustin Chambers, professor of economics, has attracted attention from media and craft beer enthusiasts nationwide.
Released by Utah State University's Center for Growth and Opportunity, "The Economic Geography of Beer Regulations" showed California, by far, places the most restrictions on brewers and retailers, with those from South Dakota incurring the least.
Co-authors with Chambers were Drs. Trey Malone, assistant professor in the Michigan State University Department of Agricultural, Food and Resource Economics; and Aaron Staples, Michigan State University Ph.D. student.
Han, Leasure Named CEJI Faculty Fellows 
The SU Office of Diversity and Inclusion announced Drs. Eun-Jeong Han, assistant professor of communication, and T. Ross Leasure, professor of English, as the first SU Center for Equity, Justice and Inclusion (CEJI) Faculty Fellows.
Han's research is in intercultural communication. She has an interest in amplifying Asian American and Pacific Islander voices, as well as community intersectionality through programming and experiential learning opportunities in the CEJI.
Leasure, faculty advisor of SU's LGBTQ+ Resource Center for the past eight years, teaches courses and has research interests in queer literature and history. He plans to increase programming for the LGBTQ+ community and explore experiences related to intersectionality as a way to increase and support understanding.
As part of this pilot program, CEJI Faculty Fellows will serve as liaisons with other faculty to provide educational and support programming for students and other SU community members through the center.
Faculty Spotlighted in Association Publications 
Dr. Brian Flores, assistant professor of early and elementary education and director of SU's May Literacy Center, was featured in the National Association of Professional Development Schools (NAPDS) newsletter, NAPDS NewsFlash. In a video feature, he discussed his recent article "Placement or Partnership? How an Intern and University Supervisor/Liaison Impacted Practice, Student Learning and Overall University/School Partnership."
Dr. Jennifer Jewell, director of SU's School of Social Work, was featured in the National Association of Social Workers (NASW) magazine Social Work Advocate. Jewell discussed the University's social justice efforts, as well as the SU Social Work Program.
SU Emeriti Paper Runner-Up in Emerald Case Competition 
A paper by Drs. Frank Shipper and Richard Hoffman, professors emeriti of management, was named the runner-up in the 2020 Emerald Best Case Award competition, hosted by The CASE Journal.
Their study, "John Lewis Partnership Approaching 100 Years — What Now?" examined the future of the U.K.'s largest employee-owned business, and one of its largest multichannel retailors, amid changes in competition, technology and the environment. It was selected as one of three finalists for the award from all papers published in the scholarly journal in 2020.
For more information call 410-543-6030 or visit the SU website at www.salisbury.edu.