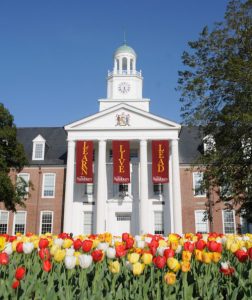 SALISBURY, MD—Salisbury University celebrates the following recent faculty, staff and student achievements:
McDermott Continues Fulbright Collaboration 
Dr. E. Patrick McDermott, professor of management and law in SU's Franklin P. Perdue School of Business, recently completed a joint online class in negotiation with Adriana Almășan, professor of law at the University of Bucharest School of Law.
The collaboration is one of many continuing activities flowing from McDermott's teaching at the university as a 2018-19 Fulbright Scholar in Romania.
The class was the inaugural Cross-Atlantic Negotiation Competition. Students from SU and the University of Bucharest engaged in real-time negotiations representing a fictitious vaccine supplier and a distributor.
The students were paired in mixed U.S. and Romanian teams and negotiated against another mixed team, maximizing the cultural experience in preparation and negotiation during approximately a week of interaction.
Benyish Earns Recognition for USM United Benefit Concert 
The Association of College Unions International recently named October's University System of Maryland (USM) United benefit concert as its 2020 Outstanding Community Building Award winner.
Joe Benyish, coordinator of student life in SU's Center for Student Involvement and Leadership, led the statewide effort with colleagues from Towson University and the University of Maryland, College Park. The virtual event raised funds for students in need at USM institutions including SU.
Dockins-Mills Honored for 32 Years of SU Service 
Dr. Lawanda Dockins-Mills, SU associate dean of students, received multiple honors to mark her retirement after 32 years of service to the University.
Dockins-Mills was bestowed with SU's first staff emerita designation, as well as the Student Government Association's inaugural SGA Service Appreciation Award. Acting Salisbury Mayor Julia Glanz also proclaimed the day of her virtual retirement celebration, December 2, as Lawanda Dockins-Mills Day in Salisbury.
'Free Yard Sale' for Those in Need Stems from SU Class 
SU student Samantha Daily and alumna Dana Seman are assisting less fortunate Salisbury area residents by hosting a "free yard sale."
A poverty program plan Daily submitted for SU's Foundations of Community Health Education class in the College of Health and Human Services, led by instructor Amy Waters, encouraged her to consider what she and Seman could do to assist local residents.
The duo collected donations from their colleagues to purchase clothing, housewares and other essentials. They then invited anyone needing those items to pick them up for free from tables and bins located in Seman's front yard.
Daily received an A on the assignment, Waters noted.
Daily is a psychology and community health major from Huntingtown, MD. Seman, from Centreville, MD, earned her B.S. in marketing in 2017.
For more information call 410-543-6030 or visit the SU website at www.salisbury.edu.