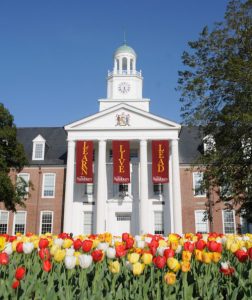 Management and Marketing Professors Emeriti Publish, Present on Employee Ownership
"John Lewis Partnership Approaching 100 Years – Now What?" a paper examining the future of the United Kingdom's largest employee-owned business by Drs. Frank Shipper and Richard Hoffman, professors emeriti of management and marketing in SU's Franklin P. Perdue School of Business, recently was published in The Case Journal.
Mary Ann Beyster, president of the Foundation for Enterprise Development, called the article "very timely and very well written," adding: "This shows how a major retailer can compete with in-store and online offerings. That kind of creativity and commitment is achieved through engaged and creative employers."
Shipper presented an update on his and Hoffman's research on the company at this year's Beyster Symposium, hosted by the Rutgers University School of Management and Labor Relations' Institute for the Study of Employee Ownership and Profit Sharing.
At the symposium, he also served as a discussant for the presentation "Five Demographic Trends to Enhance and Evolve Equity Participation Plans" by Rutgers' Bill Castellano, Wawa Fellow with the New Jersey/New York Center for Employee Ownership.
In addition, Shipper presented a second research update on the Employee Ownership Annotated Bibliography, which he co-authored for Oxford University Press with Dr. Joseph Blasi, J. Robert Beyster Distinguished Professor and director of Rutgers' Institute for the Study of Employee Ownership and Profit Sharing. Shipper is a Kevin Ruble and Lewis O. Kelso Fellow of the institute.
Southerland Publishes White Paper for Council for the Advancement of Standards
Dr. Wallace Southerland III, SU associate vice president of student affairs recently published the external review white paper "TRIO and Other Educational Opportunity Programs" through the Council for the Advancement of Standards in Higher Education (CAS).
The paper documents and analyzes his experiences from chairing an external program review process at a public university. Available as a download on the council's website, www.cas.edu, the document provides a framework for conducting an external review of TRIO and other educational opportunity programs using CAS assessments.
Yoon Published in International Journal of Environmental Research and Public Health
An article co-authored by Dr. David Yoon, incoming SU assistant professor of management and marketing, recently was published in the International Journal of Environmental Research and Public Health.
With co-authors Yongjun Choi of Hongik University, Seoul, Korea; and Dongkyu Kim of France's NEOMA Business School, Yoon discussed "Leader Behavioral Integrity and Employee In-Role Performance: The Roles of Coworker Support and Job Autonomy." The article examined the link between leader behavioral integrity, or the alignment between a superior's words and deeds, with employee job performance.
For more information call 410-543-6030 or visit the SU website at www.salisbury.edu.