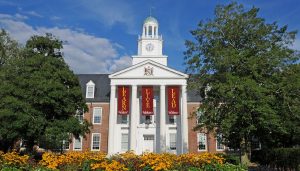 SALISBURY, MD—Salisbury University celebrates the following recent student and alumni achievements:
Senior social work and political science major Eleanor Brown of Ijamsville, MD, received the National Association of Social Workers – Maryland (NASW-MD) Bachelors of Arts in Social Work Student of the Year Award during the organization's annual conference in Baltimore.
The first SU student to receive the award, she was recognized for her leadership with the SU Honors College, Institutional Research Board, Office of Undergraduate Research and Creative Activity and School of Social Work, on- and off-campus volunteerism, and undergraduate honors thesis examining employment discrimination experienced by previously incarcerated individuals on the Lower Eastern Shore.
The largest cohort of SU students recently presented at the Association of Baccalaureate Social Work Program Directors Conference in Jacksonville, FL. It included sophomore Johannah Cooper of Jarrettsville, MD; junior Caroline Strohmeyer of Olney, MD; and senior Molly McGinty of Catonsville, MD.
Freshman marketing major Julianna Mirenzi of Annapolis recently won SU's inaugural U-Pitch student elevator pitch competition, sponsored by the University's Mid-Atlantic Sales and Marketing Institute. She received $250 plus $250 for the student organization.
Participants responded to the prompt "This Is the Reason I Am the Best Person for Your Company." Sophomore marketing major Gavin Roeder of Baltimore placed second ($100), and finance major Joseph Poudrier of Owings, MD, came in third ($50) out of 37 entrants.
SU senior history major Katie Worm of Preston, MD, received the Maryland Association of Teacher Educators' 2019 Distinguished Teacher Candidate Award during the organization's spring luncheon at Bowie State University. The accolade honors teacher candidates whose work in a clinical environment shows a commitment to student learning and the practice of reflective, responsive teaching.
SU alumna Debra Reynolds ('16 M.A.T. history) recently earned the first McCain Foundation Rising Star Award as a second-year teacher in Wicomico County. The prize included $1,000 to spend on continuing education, instructional materials, professional development or other educational areas. Reynolds teaches social studies at Wicomico Middle School.
For more information call 410-543-6030 or visit the SU website at www.salisbury.edu.