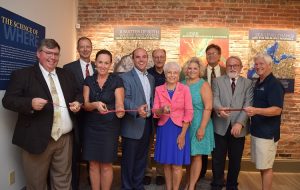 Salisbury University's downtown presence took a major step forward today with the dedication of the Eastern Shore Regional GIS Cooperative's (ESRGC's) new home on the city plaza.
"Community partnerships are important to the University, and the ESRGC's move makes good sense. Many of its clients are government agencies and downtown provides a centralized and convenient meeting location; the new offices have much needed space for staff to work with clients; and it offers our student interns the kind of professional environment they will experience in their careers. The ESRGC is important to Maryland and our region, and its services dovetail nicely with the City of Salisbury's effort to revitalize downtown," said SU President Charles Wight.
The ESRGC is the second major outreach effort comprising Salisbury University Downtown — located in the former Plaza Gallery Building, donated to SU in 2015. The first was the SU Arts Galleries Downtown which recently moved into a new, accessible location close to the SBY Art Space, a community gallery supporting local artists and art students. The third will be SU's Center for Entrepreneurship, made possible by a $5 million private gift and slated to open in 2020.
Since its creation in 2004, the ESRGC has worked on some 188 projects, totaling nearly $8 million in grants and contracts.
"It is amazing to think about how the center has grown from one employee working out of the corner of a research lab in Henson Science Hall back 14 years ago!" said Dr. Michael Scott, interim dean of the Richard A. Henson School of Science and Technology. Today, its team includes 10 full-time staff and three SU interns.
Projects have included:
• Climate change adaptation planning (Maryland State Highway Administration)
• Chesapeake Bay Critical Area boundary mapping (Maryland Department of National Resources)
• Publicly accessible state elevation LiDAR data (Maryland Department of Information Technology)
• District land-use maps for Maryland legislators
• Broadband mapping (Maryland Broadband Cooperative and Maryland's FirstNet Broadband Initiative)
• County flood vulnerability analyses (Eastern Shore Land Conservancy)
• National Wetland Inventory updates for coastal Georgia
• John Smith's historical 1612 waterway map interpretations (Town of Vienna)
• Housing quality surveys (Mid-Shore Regional Council)
• Dashboards and mobile apps
"The accomplishment of which I am most proud is the dozens of young GIS professionals who interned or worked at the ESRGC and have since gone on to have successful careers across the mid-Atlantic," Scott added. "They have taken SU's ethic of public service and replicated it in their own businesses, government agencies and non-profits. So while we have done dozens of projects that continue to positively impact the lives of the people of Delmarva, it is the amazing students whom we helped to educate as professionals who mean so much to me."
Located in Suite 305 of SU Downtown (212 W. Main St.), the 2,400-square-foot center has 10 work spaces including a 12-plus seating conference room with a 65-inch monitor for teleconferencing, individual offices as well as a "bullpen lab" for multiple stand-up desk workstations, and a colorful reception area with a contemporary aesthetic. Throughout are exposed brick walls from the 19th-century building, which originally housed a Woolworth's five-and-dime. Equipment includes a 42-inch scanner and plotter for digitizing and printing large-format maps.
The renovation was led by the University's offices of architectural and engineering services, and information and classroom technologies, in private partnership with RMF Engineering and Davis, Bowen & Friedel, Inc. Contractor was Delmarva Veteran Builders, LLC.
The ESRGC is a joint effort between SU and two area planning and development agencies: the Mid-Shore Regional Council and the Tri-County Council for the Lower Eastern Shore of Maryland.
For more information call 410-543-6030 or visit the SU website at www.salisbury.edu.
———-
Caption:
Pictured, from left, are Dr. Michael Scott, interim dean of SU's Richard A. Henson School of Science and Technology and director of the Eastern Shore Regional GIS Cooperative; Dr. Charles Wight, SU's President; Kim Kratovil from U.S. Senator Ben Cardin's Office; Ryan Snow from Maryland Governor Larry Hogan's Office; Salisbury City Council President Jack Heath; Maryland Senator Addie Eckardt; Melissa Kelly from U.S. Senator Chris Van Hollen's Office; Mike Arntz from U.S. Congressman Andy Harris's Office; Mike Pennington, executive director of the Tri-County Council for the Lower Eastern Shore of Maryland; and Palmer Gillis of Gillis Gilkerson.